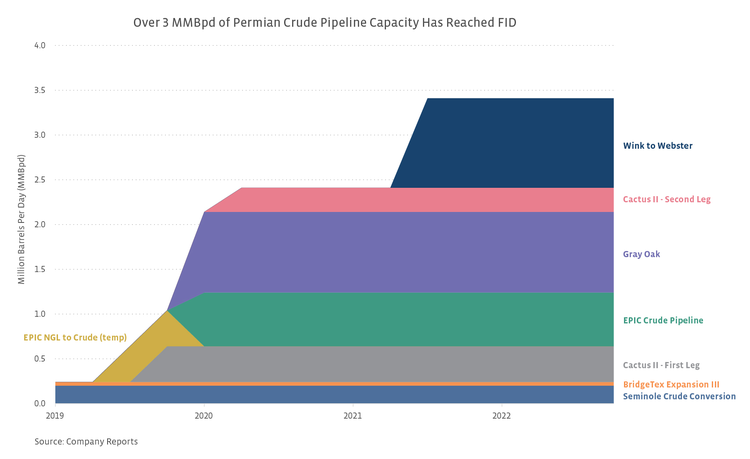 Is the crude glut just moving to the coast?
With Permian crude pipeline capacity set to increase significantly, the question is if midstream is fixing one bottleneck just to create another one on the Texas Gulf Coast. One potential destination for Permian crude is Texas refineries, but their complexity is a limiting factor in their ability to run light, sweet crude. In general, to balance crude supply and demand along the Gulf Coast, incremental barrels will need to be exported. Several crude export projects have been announced in conjunction with pipeline additions from the Permian. In 2019 alone, two new export terminals will come online along with three expansions for total incremental export capacity of 1.6 MMBpd in Houston and Corpus Christi. A joint venture that includes Buckeye Partners (BPL), Phillips 66 Partners (PSXP), and Marathon Petroleum (MPC) is constructing the South Texas Gateway Terminal in Corpus Christi, which will start up 400 MBpd by the end of this year. Magellan Midstream Partners (MMP) and LBC Tank Terminals are also expanding their Seabrook crude terminal by 400 MBpd by the end of 2019.
---
Content continues below advertisement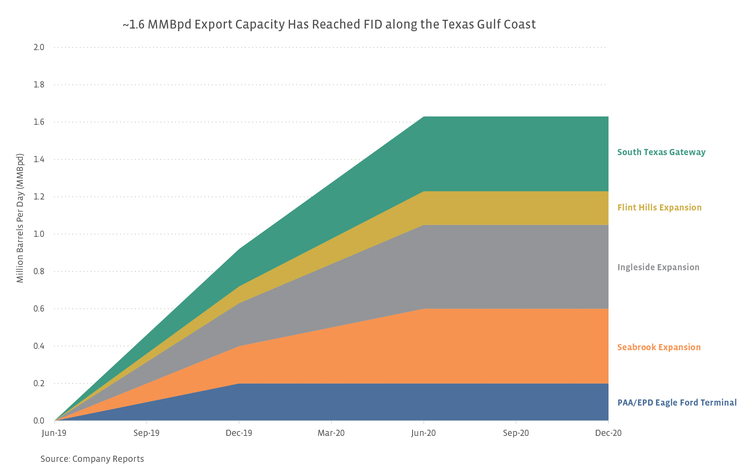 Will export capacity be constrained? We don't think so. In its recent presentation, PAA puts US Gulf Coast crude export capacity at 7 MMBpd in comparison to recent exports of just over 2 MMBpd. We conservatively estimate Louisiana export capacity, with exports primarily located at the Louisiana Offshore Oil Port (LOOP), at somewhere between 1 and 1.5 MMBpd. To be conservative, if we assume Louisiana export capacity is 1.5 MMBpd, Texas export capacity is implied at 5.5 MMBpd. Export terminals are unlikely to operate at full capacity, so if we further assume 70% utilization for the existing and planned capacity additions over the next two years, that would give us ~5 MMBpd of operable export capacity plus any incremental refinery demand. Given that current exports of 2 MMBpd from the Gulf Coast include both Texas and Louisiana, and assuming 85% utilization on pipeline additions of 2.9 MMBpd (independent of production growth), there should be sufficient export capacity on the Texas Gulf Coast. Based on these numbers, it's hard to see a sustained bottleneck forming based on inadequate export capacity.
Construction of all export projects could lead to an overbuild.
The number of announced export terminal projects makes an overbuild possible in the long term, but that also depends on expectations for supply from the Permian (primarily) and the Eagle Ford. Through 2022, up to 8.9 MMBpd of export capacity could be constructed when combining projects that have reached FID and all proposed export projects. Importantly, many of the announced new-build and expansion projects have not reached FID, including large undertakings such as Carlyle and the Port of Corpus Christi's Harbor Island project, Jupiter MLP's Brownsville terminal, and the Texas COLT terminal in Freeport being developed by Enbridge (ENB), Kinder Morgan (KMI), and Oiltanking. At this time, it is uncertain whether all these projects will reach FID.
Revisiting production growth, if we take the midpoint of PAA's 2023 exit rate forecast for Permian production, the implied growth would be 2.65 MMBpd from today to the end of 2023. Assuming 70% utilization of planned and proposed terminal capacity additions, the implied surplus in export capacity would be 3.6 MMBpd if all projects came online. As a result, it seems possible some projects will get scrapped or combined before reaching FID. That said, it bears mentioning that new-build projects may have competitive advantages over existing capacity. For example, the ability to load Very Large Crude Carriers (VLCCs), which can carry 2 million barrels of crude, may result in a more cost-efficient export option than existing capacity that is limited to smaller ships.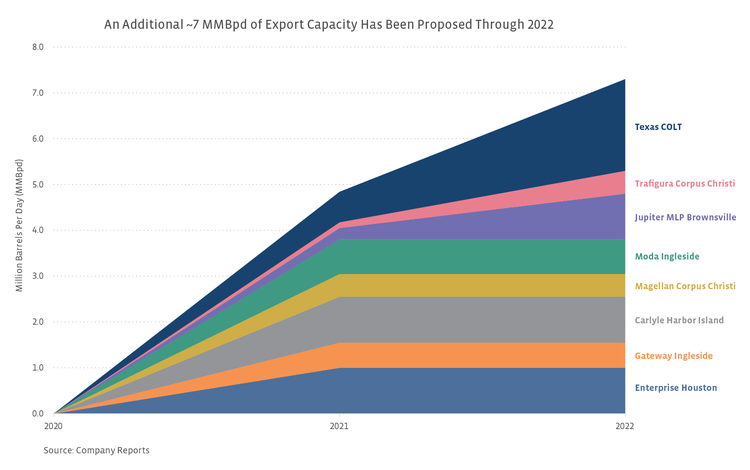 Bottom Line
The immense production growth in the Permian is creating opportunities for midstream companies. Higher crude volumes have increased the need for additional pipelines and the expansion of existing lines as well as new export terminals. Crude export capacity on the Texas coast is unlikely to be constrained over the next two years due to a surplus in existing capacity and several upcoming projects and expansions. Over a longer time horizon, it's possible an overbuild of export capacity could develop if most proposed projects are ultimately built, but more likely, we will see project combinations or decisions not to pursue some projects.