Summary
The US is expected to take the top spot for

LNG

export capacity globally this year, edging out Australia and Qatar.
The strong rebound in

LNG

markets since the doldrums of 2020 has benefited companies operating liquefaction capacity.
Midstream companies have benefited from growing

LNG

exports through operation of supporting infrastructure as highlighted by recent expansions and pipeline announcements.
Exports of liquefied natural gas (LNG) from the US have reached new highs lately as additional export capacity has come online. These capacity additions have been well timed given strength in LNG markets and price spikes in Asia and Europe this winter. Today's note looks at recent developments in the US LNG export market, expectations for 2022, and how midstream companies are actively supporting growing US LNG exports, both directly and indirectly.
US poised to become world's largest LNG exporter this year.
According to the Energy Information Administration (EIA), the US is expected to take the top spot for LNG export capacity globally this year, edging out Australia and Qatar. As the world's largest natural gas producer with plentiful reserves, it is fitting for the US to become the world's largest LNG exporter. A few key projects will cement the leading spot for the US. In November, Venture Global LNG received permission from the Federal Energy Regulatory Commission (FERC) to start commissioning liquefaction trains at its Calcasieu Pass LNG terminal in Louisiana. The facility is expected to be fully operational by the end of this year, representing peak export capacity of 1.6 billion cubic feet per day (Bcf/d). Meanwhile, Cheniere Energy Partners (CQP) produced its first LNG at Sabine Pass Train 6 in November, with substantial completion expected in 1Q22. Train 6 will provide 0.76 Bcf/d of peak capacity. Additionally, Cheniere's (LNG) liquefaction capacity per train has increased by more than 12% at the midpoint due to efficiency improvements at Sabine Pass and Corpus Christi, representing an incremental combined capacity expansion of 0.7 Bcf/d.
In 2021, US LNG exports reached an estimated 9.8 Bcf/d driven by capacity additions and a stronger market after a challenging 2020. LNG prices in Europe and Asia hit record highs in 2H21 as tight market conditions were exacerbated by colder weather and supply outages going into the winter season. With the capacity additions discussed, LNG exports in 2022 are expected to increase by 1.7 Bcf/d to 11.5 Bcf/d as peak export capacity reaches 13.8 Bcf/d as shown below. For context, the EIA forecasts US natural gas production of 96.0 Bcf/d in 2022, implying 12% of natural gas production could be used for LNG exports this year.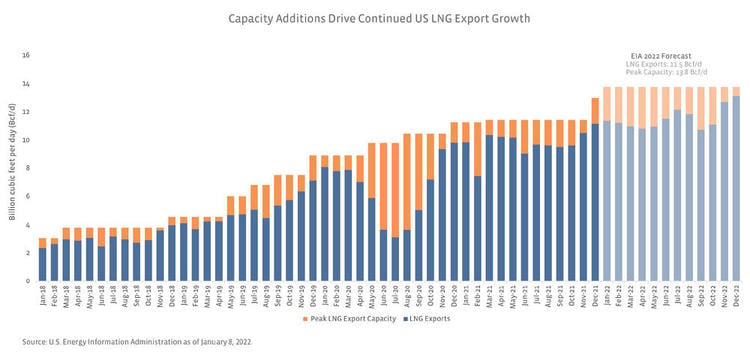 Benefits of growing LNG exports extend beyond companies with liquefaction capacity.
The strong rebound in LNG markets since the doldrums of 2020 has clearly benefited companies with LNG export facilities. While operating capacity is largely spoken for under long-term contracts, the ability to sell spot cargoes in a tight market provides additional upside. With the strong macro backdrop, the equity prices of Cheniere Energy (LNG) and Cheniere Energy Partners (CQP) gained 69.0% and 19.8% in 2021, respectively. The environment also likely incentivized customers to sign long-term contracts, with Cheniere announcing multiple sale and purchase agreements in October and November. Also within the midstream space, Kinder Morgan (KMI) operates a small LNG export facility at Elba Island, Georgia, that has peak export capacity of 350 million cubic feet per day. Others like Tellurian (TELL) and NextDecade (NEXT) are developing LNG export facilities, and Energy Transfer (ET) is considering converting its LNG import and regasification terminal at Lake Charles, Louisiana, to an LNG export facility.
Midstream companies do not have to own liquefaction capacity to participate in the growth opportunities associated with rising LNG exports. US natural gas infrastructure, including gathering pipelines, processing facilities, and larger pipelines, plays a critical role in getting natural gas from the wellhead to liquefaction facilities. For example, on KMI's 4Q21 conference call, management noted a 33% year-over-year increase in deliveries to LNG facilities via its pipeline system. KMI's market share of shipments to LNG facilities stands at around 50%. In December, Enterprise Products Partners (EPD) completed an expansion and new lateral pipeline in its Acadian natural gas system in Louisiana to supply the Gulf Coast LNG market. Enbridge (ENB) recently agreed to add a 10-mile lateral to its Valley Crossing pipeline to supply Texas LNG, which is expected to begin operations in 2026. Importantly, midstream companies are providing these services under long-term contracts for fees.
Bottom Line:
With the US on the brink of becoming the world's top LNG exporter, midstream plays an important role by directly owning liquefaction capacity in some cases and by supplying LNG facilities.
---
Content continues below advertisement