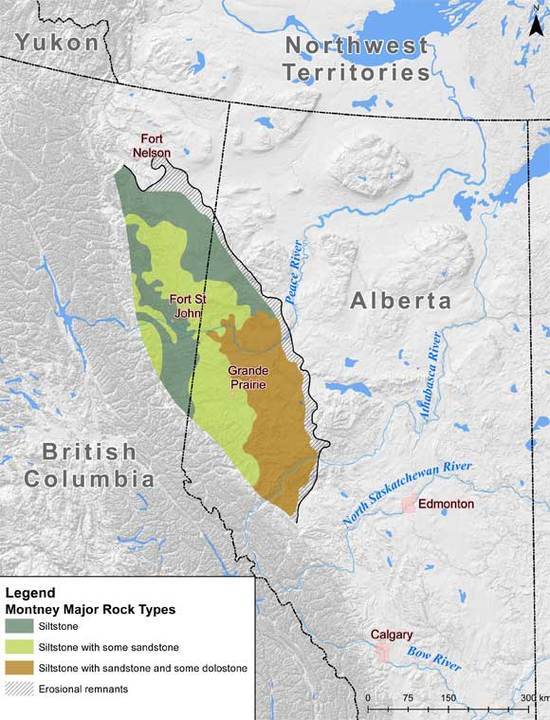 Source: NEB
Why Is It Important?


It's big. In acreage, it's about equivalent to the Marcellus, but it's much thicker. As one comparison: it's as thick as the Eiffel Tower is tall. In 2013, the Canadian National Energy Board (

NEB

), roughly equivalent to the

EIA

in the US, said that between British Columbia and Alberta, there's about 450 Tcf of marketable natural gas. The Montney is currently producing about five bcf/day.


As it's located near the West Coast of Canada, there's a potential for Montney production to be liquefied and exported. This would avoid the need for it to compete with Marcellus gas and also avoid Henry Hub pricing.


It's still new. In terms of technology, it's about a year behind the Marcellus. However, the Montney will eventually benefit from the lessons learned by operators in its southern cousins: Montney wells are likely to be longer, more fracked, and have better placed horizontals.
Why Don't We Hear More About It?
With the new Canadian federal government, the regulatory situation remains uncertain. While Alberta royalty questions may have been answered and some federal

LNG

export licenses may have been issued, existing British Columbia regulations impact production. This fall, the federal and provincial governments will meet to harmonize regulations.
Land ownership is still very fragmented. Following a land grab in 2009-2012, there are over 40 operators. Anyone who wants to get into the Montney is buying land from someone already there. At the EnerCom conference a few weeks ago, it was noted that this year operators will likely engage in M&A designed to create economies of scale. It's like the second stage in a Monopoly game, where all the properties are owned, but now all the players wheel and deal and trade properties trying to get the strongest monopoly.
It will be constrained by pipeline takeaway capacity. Current production has fallen due to the commodity price environment, so at the moment, there is some spare capacity (giving it a temporary competitive advantage over the Marcellus). However, like the Marcellus, Montney gas was not previously produced, so operators have few choices (noted below) for takeaway capacity. If production increases, new pipelines will need to be built; however, they will potentially need to deal with an uncertain or restrictive regulatory environment.
What Energy Infrastructure Companies Are Involved?
There are three basic ways producers can get production out of the Montney:
To the West. Spectra Energy (SE) owns and operates the BC Pipeline, which moves gas down to Vancouver and across the border to Washington state. Primarily, the gas moved on that pipeline satisfies residential demand; however, demand is growing.
To the East. TransCanada (

TRP

) owns and operates the Canadian Mainline System, which moves gas from eastern Alberta to Ontario. There are also options for producers to move gas to the south and to the oil sands.
To Chicago. The Alliance Pipeline, owned by Enbridge Income Fund Holdings (

ENF

) and Veresen (

VSN

), runs to Chicago at top speeds. Producers have the advantage of Chicago pricing for their gas, but the toll is more expensive than other options.
No one knows how the regulatory situation in the Montney or for Canadian LNG will resolve, but the opportunity (and a starter set of infrastructure) is already there.
---
Content continues below advertisement