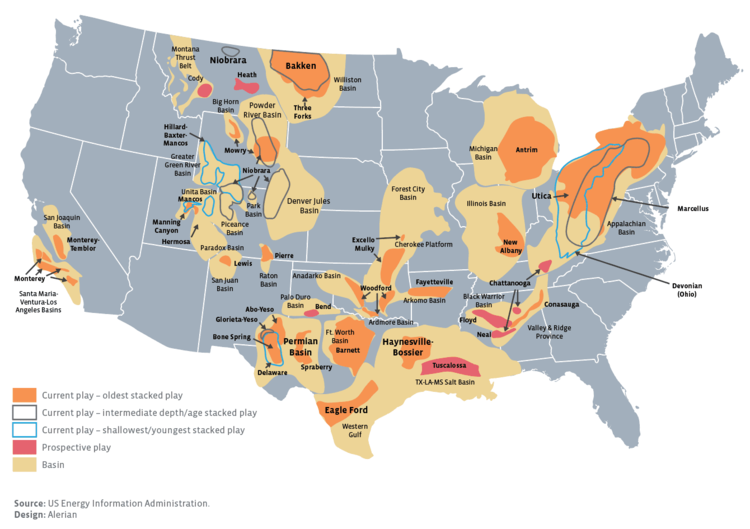 The broader benefits: LNG exports facilitate more US gas production.
LNG exports benefit energy companies broadly, not just those companies supplying the LNG export terminals or operating export terminals. How? Without the ability to export natural gas on tankers as LNG and via pipelines to Mexico and Canada, as shown in the chart below, the natural gas supply in the US would overwhelm domestic demand. This would have negative implications for natural gas prices (bad for producers) and limit production growth (bad for producers and midstream companies).
---
Content continues below advertisement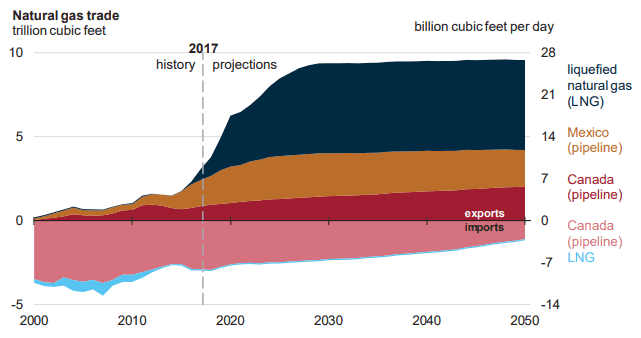 Source: US Energy Information Administration, Annual Energy Outlook 2018
The Energy Information Administration forecasts that dry natural gas production will grow to 84.5 Bcf/d in 2019. With US LNG export capacity expected to approach 10 Bcf/d in 2019, almost 12% of US dry natural gas production could be used for LNG exports. The incremental gas demand from LNG projects helps facilitate the expected growth in natural gas production. Production growth benefits midstream companies as volume-driven businesses. More natural gas means more volumes to gather, process and transport, and that requires more infrastructure. In this way, LNG exports support growth opportunities for natural gas pipelines and processing plants.
As we discussed last week, the US is poised to play an important role in the global LNG market and may play an even bigger role as additional projects reach final investment decision (FID). Since our post last Tuesday, potential permitting delays for LNG projects have been in the headlines, with media reports that FERC reviews may be delayed 12-18 months. Permitting progress and additional FID announcements will bear watching — and not just by LNG suppliers and customers. Given that LNG exports increase infrastructure demand and extend the runway for US natural gas production growth, midstream companies will also have an interest in LNG export projects moving forward.