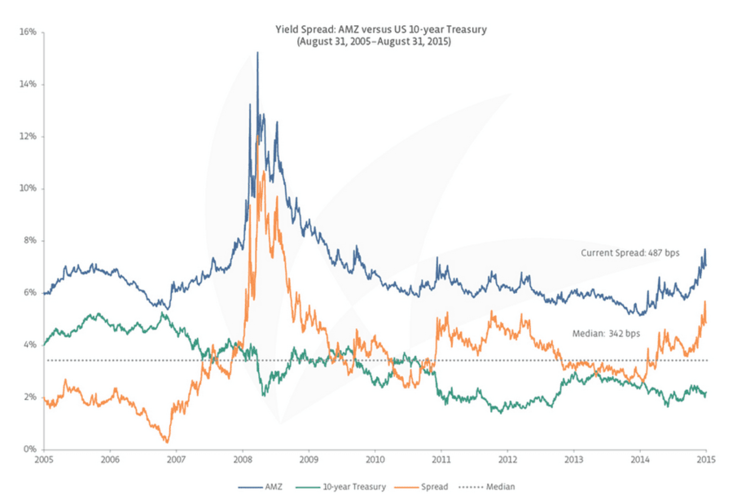 The following table shows the number of days from August 2005 to August 2014 where the spread has been in the listed ranges, as well as the average return in the 12 months following, plus the maximum and minimum return. The most recent year has been excluded as there is not yet a full year's worth of data following the spread widening to that point.
---
Content continues below advertisement

Spreads this wide are rare, but on average, investors generated double-digit returns in the year following.
Looking Ahead
MLPs were down 5.0% in August and are now down 18.2% year to date on a total return basis. It seems like the broad investment advice to stick with the plan is being followed by many with respect to their total portfolios, including their MLP position. Waiting around for times like SPP's one-for-ten deal won't net that much money (maybe enough to take your sweetheart for ice cream). Throwing your hat in with OKE on their buy-cheap-equity-with-cheaper-debt has its own risks (and you could just take out a loan and buy OKS units with your own debt if that was really your plan). Participating alongside activist investors does seem to help avoid the worst laggards, but all of Icahn's MLPs were down this month, too. If you believe that history repeats itself, you additionally believe that everything always reverts to the mean, AND you haven't panicked yet? Sticking with your investment and doing nothing may be the best conscious decision you can make. I guess we all could have gone on vacation this August after all.