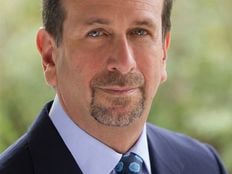 ProShares recently launched four S&P 500 Ex-Sector ETFs. Each offers the S&P 500 but without the exposure to certain sectors such as energy, financials, technology and health care.
We recently had the opportunity to speak with ProShares' CEO Michael L. Sapir to learn more about the company's new ETF launches as well as his trajectory and views of the ETF industry.
ETF Database: You started as a securities lawyer and then in 1993 became a principal at the Rockville-based Rydex family of mutual funds. In 1997, you founded ProShares, first pitching your index mutual funds. Nine years later, you created a division of ProShares exclusively focused on ETFs. Can you describe this trajectory, going from mutual funds to ETFs, and why you felt this was the right industry to move into?
Michael L. Sapir (MS): When we started thinking about exchange-traded funds, way back in relative history — 1999, we actually started working with our lawyers and the SEC to offer ETFs. We were pretty early to the party. We had been offering a series of index mutual funds that offered investors the flexibility to move from one fund to another fund without restriction or penalty, and that concept had received a good deal of traction in assets. At that time, we thought that as we learned more about the ETF structure, we could offer products to investors who wanted to be relatively active and use the ETF structure to give them their ability to not just move their investments day to day, but anytime during the trading day. Initially, the liquidity aspect of ETFs, and the ability to buy and sell anytime during the trading day, versus mutual funds where you can only move at the end of day, was attractive to us. Now ETFs have gotten a great following and our lineup in ETFs has diversified.
ETF Database: Building on the first question: since mutual funds have been the mainstay of retail investors for decades, do you believe they will remain so, or do you believe that ETFs will surpass them at some point?
MS: Well, mutual funds got a very large head start over ETFs. First, 40 actively traded mutual funds were started in the 1940s and then ETFs came along in 1993. Also, mutual funds have an advantage: much of the forming of the retail investment industry has been developed specifically for mutual funds. If you look at defined contribution plans, specifically 401(k) programs, the structure of those programs is mutual fund-centric. The ETF industry is having some challenges figuring out how to take a product like an ETF and plug it into an infrastructure that was developed for a different product. Those are headwinds for ETFs, but ETFs have a number of advantages over mutual funds. I think mutual funds and ETFs will coexist and both will be successful for a long period of time. And depending on your investment strategy and what type of investment you are seeking, mutual fund or ETFs, one might be more superior to the other.
ETF Database: So you believe ETFs and mutual funds can play nicely together in the long term?
MS: I think ETFs and mutual funds will coexist over the long term and serve different purposes and different audiences.
ETF Database: ProShares offers a wide variety of alternative ETFs. Would you say that this is the main factor that differentiated ProShares from other issuers and contributed to its success?
MS: Absolutely. ProShares offers the greatest number of alternative ETFs of any ETF company in the country. We look to offer ETFs that are differentiated in the marketplace and deliver value added.
ETF Database: ProShares launched four ex-sector ETFs on September 24. Could you tell us what compelled you to launch these ETFs that exclude certain sectors?
MS: We launched the ex-sector ProShares because we thought they could be a valuable tool for many investors. They allow investors to get a type of investment exposure that was unavailable to ETF investors prior to launch.
ETF Database: These four new ETF launches exclude energy, financials, technology and health care. Can you tell us more about this new wave of alternative ETFs?
MS: This is the first time that investors can get exposure to the S&P 500 through an ETF and avoid the sector they don't want. I think it's part of a new wave of ETFs that allows people to be more precise in the investment exposures they get with ETFs. Investors can fine tune their portfolios and ultimately build better portfolios.
ETF Database: What kinds of investors do you believe will be interested in these ex-sector ETFs?
MS: We expect all kind of investors to be interested in the ex-sector ETFs. Specifically, investors who don't believe in a particular part of the market, let's say energy or financials. Rather than going out and buying an S&P 500 fund or ETF that has a large segment of that sector, you can choose to leave that sector behind and still invest in the rest of the S&P 500. We also expect that investors who already have exposure to a sector, let's say through an active manager or through their employment, and let's say in the financial services industry, will choose not to get additional exposure to the S&P 500 as a whole. We expect interest in these funds from both retail and institutional investors.
ETF Database: What other opportunities do you see in the coming future for ProShares ETF launches?
MS: We plan to be robust in launching new products. We look to respond to needs in the marketplace that we hear from investors and financial professionals. We are designing products that are molded around those needs, and we intend to be aggressive in getting out new ETFs that we think will serve an unmet need of investors.
The Bottom Line
With the current weakness in some specific sectors, such as energy, which has underperformed the S&P 500 by over 30 percentage points in the past year, the ProShares S&P 500 Ex-Sector ETFs are an option that will enable investors to reduce or eliminate exposure to a sector they believe may underperform. This new wave of ETFs can help investors adjust their portfolios and ultimately build better ones.
---
Content continues below advertisement