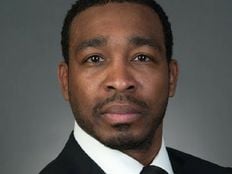 In a recent sit-down with ETFdb.com, Senior Investment Strategist at Northern Trust, Abdur Nimeri, discussed FlexShares' lineup of ESG-focused ETFs, including how they can be integrated as core holdings into investor portfolios. We discuss why responsible investing has attracted so much attention in recent years as well as the misconceptions surrounding ESG investing.
ETFdb.com: Please tell us about yourself and the career trajectory that led you to becoming a senior investment strategist for FlexShares ETFs.
Abdur Nimeri (A.N.): Prior to being named senior investment strategist at Northern Trust's FlexShares, I worked in portfolio research for Northern Trust's Wealth Management Group, focusing on factor-based research, portfolio construction/design, and manager selection. Before joining Northern Trust, I was the Riley Professor of Physics at Colorado College.
ETFdb.com: Responsible investing has attracted significant attention among ETF investors and issuers over the past few years. Where is this coming from?
A.N.: We believe the recent increase in responsible investing can be more accurately characterized as a "renewed" interest in responsible investing. This is likely coming from an increase in overall education on the topic and familiarity with the various approaches to responsible investing, most notably the integration approach. Integration strategies attempt to not just exclude large swaths of companies but look to find companies that are ESG leaders within their given industry or "best in class."
Another primary reason for the growth in responsible investing, both in institutional and retail investor channels, is due to the fact that the available data that tracks many firms' sustainable practices is now more readily available at all levels. This has given investors and asset managers better tools to evaluate a firm's actual sustainable practice.
Lastly, the attention of fund providers like FlexShares, which seeks to deliver investing products aimed at meeting investors' long-term personal goals without sacrificing returns, is an additional driver for the increased interest we are seeing in responsible investing.
Here are a few more reasons about Why Socially Responsible Investing is Generating so Much Interest.
ETFdb.com: Socially responsible investing (SRI) goes by many names: impact investing; environmental, social and governance (ESG) investing; sustainable investing; and so on. How would you define ESG investing and how does it differentiate from the other definitions of SRI investing?
A.N.: ESG is a way by which SRI investors articulate their investment goals. ESG simply allows investors the ability to incorporate all three criteria – Environmental, Social and Governance – into their investment process. Historically, investors have focused on the "E" part of the equation, and we believe it's important that investors implement all three parts of the E,S and G in their portfolio.
ETFdb.com: What is FlexShares' strategy in the ESG-ETF space?
A.N.: Investors are increasingly seeing ESG exposure as a core element of their portfolios that allows them to invest according to the same values in which they live – that is, to invest in sustainable companies while also focusing on reducing portfolio risk and enhancing long-term growth. The launches of our two funds, ESG and ESGG, allow investors to incorporate sustainable investing values into their investment strategy as a core portfolio element.
ETFdb.com: Before we delve into FlexShares' ESG ETF offerings, what would you say is the biggest misconception that investors have surrounding ESG investing?
A.N.: We believe that investors seeing ESG as a small portion of their portfolio rather than as a core holding is one of the biggest misconceptions regarding ESG. Until recently, however, this was the only option available to most investors. With the increase in available sustainability data combined with an ESG integration strategy, like what is employed in the Flexshares ESG ETFs, investors can hold a diversified core ESG strategy that seeks to limit tracking error to a market-weighted index while representing all sectors and industries. This provides for a wholly diversified core equity holding for an investor's broad asset allocation needs.
For a full list of socially responsible ETFs, click here.
ETFdb.com: FlexShares has two ESG-focused ETFs – FlexShares STOXX US ESG Impact Index Fund (ESG B+) and FlexShares STOXX Global ESG Impact Index Fund (ESGG B+). What inspired the creation of these ETFs a year ago? How are they different from other ESG-focused ETFs currently in the market?
A.N.: The inspiration for the two Flexshares ESG ETFs came from a need we saw in the marketplace for diversified core equity ESG products that could deliver on investors' personal and risk-adjusted return objectives.
(ESG B+) and (ESGG B+) represent an innovation in ESG ETF development. They both incorporate an integration approach. They seek to incorporate ESG criteria that is germane to risk and return while being designed to maintain broad sector diversification and limit tracking error to a broad market index.
FlexShares' ESG funds are based on the STOXX global ESG Impact Index, which screens for companies that score better with respect to a select group of ESG key performance indicators (KPIs). These include KPIs across E, S and G, such as company electricity use, human rights policy, board size and much more. The 50% of companies with the lowest ESG KPI scores are then excluded from the Index. Our KPI integration approach parallels the best behaviors of portfolio managers when it comes to evaluating, sorting and selecting companies for investment.
Use ETFdb.com's Head-to-Head Comparison tool to compare the FlexShares STOXX US ESG Impact Index Fund (ESG B+) and FlexShares STOXX Global ESG Impact Index Fund (ESGG B+) on several criteria such as performance, AUM, trading volume, expenses and even individual holdings.
ETFdb.com: How can an investor integrate ESG into their portfolio using the FlexShares STOXX US ESG Impact Index Fund and FlexShares STOXX Global ESG Impact Index Fund ETFs?
A.N.: The Flexshares ESG ETFs were designed to be a core equity holding. This allows an investor the opportunity to allocate their values through the U.S.-based ESG or to take a more global approach with ESGG as their core equity holding.
ETFdb.com: "Ethical" funds are on the rise but how funds use environmental, social and governance criteria remains murky. Many ESG-focused ETFs have significant positions in Wal-Mart Stores (with its history of labor problems), Transocean (tied to the Deepwater Horizon oil spill) and Southern Co. (a utility company that relies heavily on coal and natural gas to generate electricity). Funds have broadened the idea of what it means to be "ESG." Does this muddy the water and get away from why investors initially wanted these funds?
A.N.: Using an ESG-integration approach to ESG investing like that used in the Flexshares ESG ETFs allows investors to focus on firms with management teams that are purposely incorporating sustainable ESG practices. Instead of "throwing the baby out with the bathwater," it allows investors to maintain their ESG focus while reducing sector idiosyncratic risk, which is often present in the legacy exclusionary ESG approach. We believe this has actually made ESG more accessible to a diverse investor base.
Click here for the entire list of FlexShares ETFs.
ETFdb.com: If an investor tells his advisor that he wants to get into socially responsible investing but does not want any fossil-fuel type of companies in his portfolio, what should the advisor tell him? Given that energy is such a big component of the market, when does this strategy start hurting the investor?
A.N.: The advisor and investor should consider the ramifications to their financial goals and their portfolio's risk-versus-return profile if they decide to forego a whole sector of the economy. Historically, with the exclusionary approach, investors have foregone returns in a variety of sectors in order to maintain "purity." ESG investing is now becoming more sophisticated with the increase in availability of data. This is allowing asset managers the ability to evaluate fossil-fuel type companies for their overall ESG behavior without having to exclude whole sectors, which is enhancing diversification and limiting idiosyncratic sector risk.
For more ETF news and analysis, subscribe to our free newsletter.
The Bottom Line
Northern Trust believes that investors seeing ESG as only a small portion of their portfolio rather than as a core holding is one of the biggest misconceptions regarding ESG. Using FlexShares' lineup of ESG-focused ETFs, investors can hold diversified core ESG strategies that provide exposure to all sectors and industries while limiting tracking error to a market-weighted index.
Sign up for ETFdb.com Pro and get access to real-time ratings on over 1,900 U.S. listed ETFs.
---
Content continues below advertisement