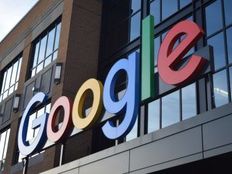 Leveraged & Inverse ETF Channel
The first month of the new year can bring bullish opportunities for investors, especially since they're brimming with optimism after a rough 2022. Stocks like Google, for example, could get a bullish boost, allowing traders to play the single-stock exchange traded fund (ETF).
It could be a solid play-the-bounce trade, especially after a challenging 2022 for the tech industry. Inflation fears have led to stock market weakness for big tech, leading to layoffs from a number of familiar tech names in anticipation of slower growth prospects heading into 2023.
Google has obviously not been immune to the economic headwinds that have been buffeting against big tech. The index representative of big tech, the Nasdaq 100, is down 30% for the year.
"Alphabet has seen its sales growth slow gradually over the course of the year, coming in at just 6% in the third quarter," . "The company blamed macro headwinds, a stronger dollar, and difficult comparisons for the weak performance, but it's not surprising to see its revenue growth slowing."
One of the reasons, as Motley Fool pointed out, is the cyclical nature of the advertising industry. When the economy is doing well, businesses are willing to spend and scale back when the opposite occurs.
"After all, advertising is a cyclical business, and it's one of the first expenses businesses pull back on when they anticipate a recession and conserve their budgets," the Motley Fool article said. "That's exactly what's happening now, as a number of Alphabet's peers have reported similar trends."
Seeking a Google Bounce
Of course, when the U.S. Federal Reserve gets inflation under control, it will be a good sign for economic growth. As such, traders can play a bounce in Google's stock price with GGLL, which seeks 150% daily leveraged investment results and thus will have an increased volatility relative to the underlying GOOGL performance.
A looming recession could always tamp down bullish vibes, but once that passes, Google could be primed for gains. Additionally, Google has a strong foothold in its industry as the top internet search engine, which should serve it well during the current economic doldrums.
"The Google parent still has a monopoly in internet search, not to mention its YouTube video platform, and that has generated huge profit margins for the company," the article added.
For more news, information, and analysis, visit the .
---
Content continues below advertisement