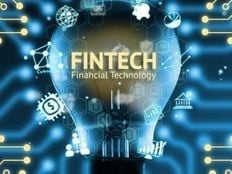 Leveraged & Inverse ETF Channel
The fintech industry could return back to form in 2023 after last year's tech rout. The broad weakness in the technology sector could be dissipating as central banks get inflation under control and slow down the pace of rate hikes.
During the height of the pandemic, fintech was one of the bright sectors rife for investment opportunities. Social distancing measures forced consumers to use fintech products to pay for goods and services, particularly online.
Fintech, along with the broader tech sector, lost its mojo as the world slowly returned to its pre-pandemic state. The macroeconomic backdrop of rising inflation and a potential recession only added to the downward pressure.
"Fintech in 2022 was buffeted by a cyclical sectoral downturn combined with a souring macro-economic environment," a Finextra article said. "In part, the sector was a victim of its own success. After flying high and being one of the most heavily invested-in sectors for the past several years, it was only natural that values would come back down to reality and align with historical norms."
Nonetheless, fintech is still abundant with growth opportunities in 2023 and beyond. If the sector can turn towards the upside once again, this opens opportunities for short-term traders looking to capitalize on the comeback.
"Fintech is still in its adolescence and opportunities for growth and value creation are huge," the article added. "There are incredible innovations on the horizon and the future is positive. But that's my long-term view."
Leveraging Upside in the Fintech Industry
Rather than trade multiple stocks that are representative of the fintech industry, traders can get amplified exposure using just one fund: the . The funds seek to achieve 200% of the daily performance of the Indxx US Fintech and Decentralized Finance Index, the MVIS US Listed Oil Services 25 Index, and the S&P 500 Equal Weight Index, respectively.
FNTC follows the Indxx US Fintech and Decentralized Finance Index, which includes companies offering technology-driven financial services and facilitating a decentralized finance infrastructure, that are disrupting existing business models in the financial services industry in the U.S.
The following sub-themes are included in FNTC: digital payments, point-of-sale, personal finance software, and credit/debit card issuers, tax compliance software and backend payment processing, decentralized finance, financial enterprise solutions, and peer-to-peer lending and crowdfunding. Companies involved in business activities associated with these sub-themes will be eligible for inclusion. Eligible companies deriving a minimum of 50% of their total revenue from these sub-themes will form the selection list.
For more news, information, and analysis, visit the Leveraged & Inverse Channel.
---
Content continues below advertisement