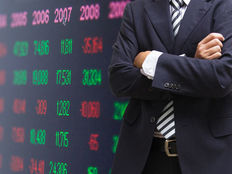 To help investors keep up with markets, we present our ETF Scorecard, which takes a step back and looks at how various asset classes across the globe are performing.
Since the start of 2015, volatility has been the key theme on Wall Street, and the back-and-forth trading has yet to show signs of setting down. The laundry list of uncertainties that is eating away at investors' confidence continues to revolve around the seemingly never-ending slide in oil prices and worries over a potential stimulus announcement from the European Central Bank; adding to that list this week were lackluster retail sales and Beige Book data releases on the home front.
For more ETF news and analysis subscribe to our free newsletter.
Risk Appetite Review
"Risk Off" sentiment prevailed over the past week as evidenced by negative returns across the board, led lower by High Beta stocks:
---
Content continues below advertisement
Major Index Review
Developed markets held up the best over the past week thanks to encouraging developments surrounding the potential stimulus announcement from the European Central Bank:
Domestic Sector Review
The Utilities sector was the only one to post a positive return for the week and remains the best performer over the past month as well:
Foreign Equity Review
Trailing five-day country ETF returns were all over the place amid volatile trading on Wall Street while China remains the best performer on a monthly basis for a second week in a row now:
Commodities Review
Precious metals and silver prices saw the best returns over the past week, with oil prices yet again falling to the bottom of the barrel:
Currency Review
The Japanese yen posted the best returns on the week although the U.S. dollar remains by far the strongest currency from a monthly perspective:
Please note that trailing weekly returns are as of January 8th, 2015 and all other data is updated as of market close January 15th.
Follow me on Twitter @Sbojinov
[For more ETF analysis, make sure to sign up for our free ETF newsletter]
Disclosure: No positions at time of writing.