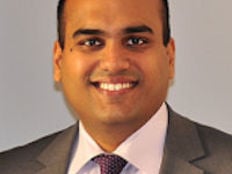 Investors of all walks have come to embrace the exchange-traded product structure as the preferred vehicle when it comes to building out low-cost, well diversified portfolios. Furthermore, active traders have also taken note of the inherent advantages associated with the ETF wrapper, embracing the product structure for its unparalleled ease-of-use and intraday liquidity.
We recently had the opportunity to talk with Mohit Bajaj, Director of ETF Trading Solutions at WallachBeth Capital, about his firm's role in the industry as well as the evolution of ETF trading in recent years.
ETF Database: What's your firm's story? What role do you play in the ETF industry?
---
Content continues below advertisement
Mohit Bajaj (MB): Our firm was founded in 2008 by brokers and specialists with experience trading ETFs since their inception. Over the years, our ETF Trading Solutions group has become the largest agency-only desk in the industry, and we have transformed the way that institutional investors trade ETFs, offering transparency and significant price improvement in the ETF space. Our goal has always been to educate the larger buy-side and institutional investor community about the nuances of the ETF wrapper and how to achieve the best execution in their ETF trades.
Our process is centered on the partnership we build with our clients. This involves extensive consultation and analysis of the best way to trade a particular name. For our institutional client base, that can mean getting risk pricing for larger blocks, taking advantage of the creation/redemption process, or some combination of the multiple liquidity avenues we provide to our clients.
ETF Database: How long have you been trading ETFs for? How has ETF trading changed and become more sophisticated?
MB: I have been trading ETFs for well over a decade. When I began working in the ETF industry, there were roughly 100 ETFs listed in the United States; mainly broad sector domestic funds, and a few of the international names. There are now approximately 2,000 ETFs listed in the US, covering almost every country/region, and asset class. The type of investor using ETFs has expanded.
We've tried to stay ahead of the curve by being an educational resource for our clients, whether that means offering an introduction to ETFs for new adopters, or having an in-depth conversation about the granular aspects of ETF trading.
ETF Database: There is a growing interest in ETFs from participants who previously only looked at derivatives. Can you please discuss the common ground between ETFs, futures and swaps?
MB: Because of increased government scrutiny, many firms are moving away from the use of swap and derivative products. It's becoming more expensive from a balance sheet perspective to enter into many of these types of products (i.e. initial margin requirements, etc.). As an alternative, fund managers have begun using ETFs as a way to gain similar exposure. Trading an S&P ETF, such as (SPY A), instead of trading S&P minis is a great example of this strategy, which allows for similar exposure without the hurdles that come along with derivative trading.
ETF Database: When it comes to ETF trade execution, what is the single biggest mistake that institutional investors tend to make? How can this be avoided?
MB: The biggest misconception among institutional investors is that thinly traded ETFs cannot be bought or sold at a tight price because there is no liquidity in the secondary market. For many funds, this is completely untrue. The majority of ETFs have very liquid underlying securities, which can make pricing in the primary market very tight; if the underlying names are trading tightly, one can expect the ETF to reflect the same tight spread.
Part of our role as a partner to our clients is to have a conversation about how to best source liquidity in a particular ETF. Sometimes that can mean trading the underlying basket of securities and taking advantage of the creation/redemption process.
ETF Database: What are your thoughts on how the industry has evolved in the last few years? Going forward, what do you see as the potential growth areas for trading ETFs and the firms that utilize them?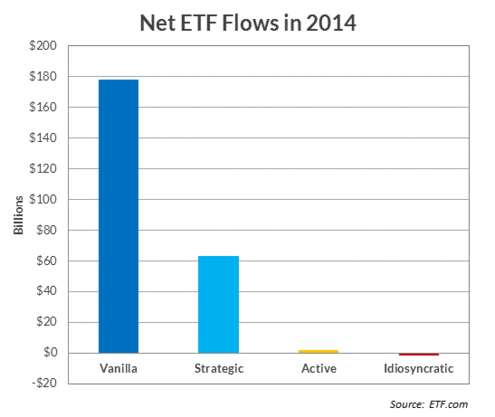 MB: The ETF landscape has grown dramatically over the last few years. Assets have ballooned, with $250bn of net inflows in 2014. The growth in ETF assets has roughly been equal to mutual fund outflows, which has urged many mutual fund firms to find ways to capture some of the growth in the ETF space. One of the biggest trends I've observed in the ETF market is the growing intrigue of actively managed ETFs.
These funds are similar to mutual funds, where the manager has a set of criteria he uses to outperform his or her predetermined benchmarks. Like any other ETF, these funds can be traded intraday and are still relatively cheap compared to their mutual fund counterparts, which are only executed at the closing Net Asset Value (NAV). Though actively managed ETFs have been a buzz phrase in the media, only $2bn of the $250bn growth in ETF assets has been in actively managed funds.
Managers are continually looking for ways to differentiate their products, including introducing less transparent actively managed funds, where underlying holdings aren't disclosed intraday. These products have not been approved by the SEC, but we're excited to see what investor demand will be and how these products will change the ETF marketplace if they do get approved.
The Bottom Line
Institutional investors are slowly but surely embracing ETFs as the preferred trading vehicle when it comes to moving in and out of asset classes of all sorts, and doing so in a cost-efficient manner, with ease and transparency.
Follow me on Twitter @Sbojinov
[For more ETF analysis, make sure to sign up for our free ETF newsletter]
Disclosure: No positions at time of writing.