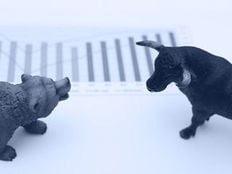 State Street added a new equity product to their ETF lineup this week as it debuted the SPDR MSCI USA Quality Mix ETF (QUS A).
Inside QUS
QUS tracks an index that invests in large and mid cap companies across the U.S. chosen based on three factors: value, quality, and low volatility. The fund's goal is to provide U.S. equity exposure with a portfolio that is weighted towards factors that have historically produced attractive long-term returns.
The fund falls under the "advanced beta" moniker, as its index will shift holdings based on the three aforementioned factors and the market environment, giving investors the benefits of active management through a passively-indexed ETF. Investors will also like that QUS has a relatively deep portfolio, with more than 600 holdings in its underlying index at its launch. QUS charges 0.15% annually for investment.
---
Content continues below advertisement
The Smart Beta Trend
"Smart" or "advanced" beta products have become something of a trend in the ETF world as of late, as issuers look to offer products that go beyond "plain vanilla" equity exposure. By that same token, some investors want to get more out of an investment than just a passive index product. Some of these products have certainly shown potential, but the trend has yet to catch fire so to speak.
QUS will be an interesting fund to watch as it has "smart" or "advanced" beta attributes, but also offers a competitive expense ratio while investing in some of the most popular stocks in the world.
Follow me on Twitter @JaredCummans.
For more ETF analysis, make sure to sign up for our free ETF newsletter.
Disclosure: No positions at time of writing.