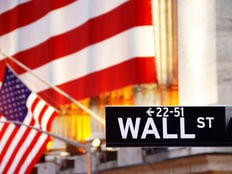 Last week, Global X launched its newest Guru Activist Index ETF (ACTX C), adding to its lineup of "Guru-focused" funds. As we wait to see how this newest addition stacks up, we take a look at how other Guru ETFs have fared.
The Lineup: GURU, GURI, GURX
Global X's Guru Fund family seeks to capitalize on the knowledge, expertise, and talent of some of the most successful hedge fund managers on the market. Typically, hedge funds charge a 2% management fee along with a 20% performance fee, making it a pricey investment for most. Each quarter however, hedge funds with more than $100 million in investments are required to publish their holdings (Form 13F). Global X's funds utilize a proprietary methodology to pick out the highest conviction ideas from these 13F filings and package them into an easy-to-trade and affordable ticker.
Each of the Guru funds offers a twist on this basic strategy:
Top Guru Holdings Index

ETF

(

GURU

): This

ETF

focuses on top U.S.-listed equity positions reported on Form 13F.

GURU

International Index

ETF

(

GURI

): This fund tracks the price movements of the highest conviction U.S.-listed international equity holdings filed with the

SEC

.

GURU

Small Cap Index

ETF

(

GURX

): This

ETF

targets the highest conviction U.S.-listed small cap equity holdings listed on Form 13F.
---
Content continues below advertisement
Performance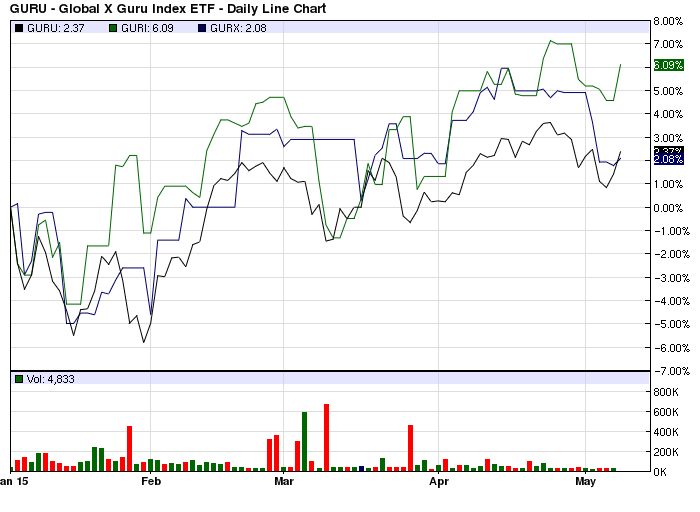 Note: The chart and data below are current as of 5/8/2015.
Year-to-date, the international-focused fund has outperformed all of the Guru funds: GURI is up roughly 6.00% so far this year. GURU and GURX are also positive on the year, both gaining over 2.00%. To put things in perspective, the S&P 500 ETF (SPY A) is up roughly 2.80% year-to-date.
Since inception, however, each of these funds has delivered significantly different returns (as of 4/30/2015):
| Ticker | Inception Date | Cumulative Return Since Inception |
| --- | --- | --- |
| GURU | 6/4/2012 | 90.34% |
| GURI | 3/10/2014 | 2.86% |
| GURX | 3/10/2014 | -8.13% |
While these funds have very different investment targets (i.e. U.S., small caps, and foreign equities), it is obvious that GURU has tremendously benefited from the uptrend in U.S. equities. GURU has also managed to outperform the broader market (SPY) by over 25% since inception until the end of Q1 2015.
The Bottom Line
While GURU's performance is quite impressive, it will be interesting to see how well the other Guru-focused funds fare in the future. The concept behind these products is rather compelling, seeing as how difficult and expensive it can be for average investors to tap into the expertise and talent of Wall Street's top hedge fund managers. To learn more about these funds, be sure to check out the investment cases featured on Global X's Guru Fund Family website.
As always, investors must do their own research in order to determine whether or not this ETF fits into their overall strategy before making an allocation.
Follow me on Twitter @DPylypczak.
Disclosure: No positions at time of writing.