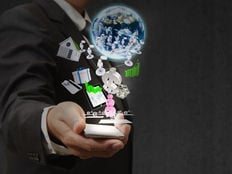 This week, investors welcomed ETF newcomer Elkhorn Investments, which launched its first fund on Wednesday. WisdomTree also expanded its lineup, launching a new Japan Dividend ETF.
S&P 500 Capital Expenditures Portfolio (CAPX )
The S&P 500 Capital Expenditures Portfolio (CAPX) is the first ever ETF to focus solely on capital expenditure efficiency. The fund tracks the S&P 500 Capex Efficiency Index, which provides exposure to the 100 constituents of the S&P 500 that have exhibited the strongest capital discipline, in the form of efficient capital expenditures, over the near term.
The theory behind CAPX's methodology is quite simple. Capital expenditures are the reinvestment of capital back into the business in order to increase efficiencies, innovation and growth; those companies that most efficiently reinvest capital are more likely to maximize the amount of sales per dollar of capital expenditures.
---
Content continues below advertisement
Under the Hood: CAPX
CAPX's resulting portfolio consists of 100 individual securities, all of which are equally weighted. In terms of sector allocations, information technology stocks receive the largest weighting – at roughly 21%. Financials, consumer discretionary, industrials, and health care equities also receive meaningful exposure.
Some of CAPX's holdings include:
Pall Corp (

PLL

)
Newmont Mining Corp (

NEM

)
Juniper Networks (

JNPR

)
F5 Networks (

FFIV

)
Equinix (

EQIX

)
The fund hopes to make dividend payments each quarter and will charge an expense ratio of 0.29%.
Commenting on the launch, former Managing Director of Global ETFs at Invesco PowerShares and current CEO of Elkhorn Investments, Ben Fulton stated, "We are excited to bring the first capital expenditures (capex) ETF to market. Capex is the reinvestment of resources back into a business and a key driver of future growth, yet an overlooked area of today's market. We believe investors are looking for factors like capex efficiency, which identify companies that best use today's resources for tomorrow's growth."
WisdomTree's New Japan Dividend Growth Fund (JDG )
On Thursday, WisdomTree introduced its latest addition – the Japan Dividend Growth Fund (JDG). The fund tracks the WisdomTree Japan Dividend Growth Index, which measures the performance of dividend-paying common stocks with growth characteristics selected from the WisdomTree DEFA Index.
The index consists of 300 companies from the eligible universe based on their combined ranking of growth, quality, and valuation factors. The growth factor ranking is based on long-term earnings growth expectations, the quality factor ranking is based on three year historical averages for return on equity and return on assets, and the valuation factor is based on the earnings yield. Companies are weighted in the Index based on annual cash dividends paid.
JDG charges an expense ratio of 0.43%.
Follow me on Twitter @DPylypczak.
Disclosure: No positions at time of writing.