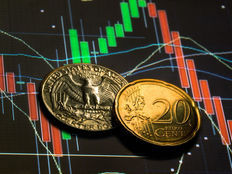 This week, Wall Street welcomed a slew of new launches as iShares stepped up its game in the Currency-Hedged ETF space and ALPS debuted two new equal-weighted funds.
iShares Looks to Become Major Player in Currency-Hedged Space
Competing with popular currency line-ups from Deutsche Bank and WisdomTree (more recently Direxion and ProShares), industry giant iShares rolled out 11 new products, each of which are linked to hedged versions of the firm's popular country- and region-specific indexes:
The funds began trading on June 29.
---
Content continues below advertisement
ALPS Debuts 2 Equal Sector Weighted Funds
On June 30, ALPS introduced two new equal-weight sector ETFs, which join the popular Sector Dividend Dogs ETF (SDOG A-).
The Sector Leaders ETF (SLDR C) tracks the S-Network Sector Leaders Index; the rules-based index intends to provide investors with a means of tracking the overall performance of those stocks in the S&P 500 that demonstrate key characteristics associated with growth and quality ("Sector Leaders") on a sector-by-sector basis. What makes SLDR unique is that the portfolio is equally weighted at the stock and sector level, providing key diversification benefits. The fund charges a 0.40% expense ratio.
The Sector Low Volatility ETF (SLOW ) tracks a similar index, but focuses on securities in each of the nine major sectors that exhibit the lowest trailing 12-month volatility. Like SLDR, this ETF is also equally weighted at the stock and sector level. The fund charges an expense ratio of 0.40%.
Commenting on the launch, Senior Vice President of ALPS Mike Akins noted, "Rather than investing in pure market-cap indexes, which are usually tilted towards specific sectors, our equal-sector weighting methodology may provide a better foundation for building diversified portfolios. As a result, investors and advisors may achieve better risk-adjusted returns."
Follow me on Twitter @DPylypczak.
Disclosure: No positions at time of writing.