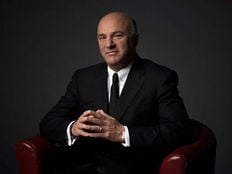 This morning, Shark Tank host Kevin O'Leary said "I'm in"—making his debut in the ETF industry.
Wall Street Welcomes O'Shares' OUSA
Kevin O'Leary, together with Connor O'Brien, launched his first ETF under the O'Shares Investments brand name—a division of O'Leary Funds Management LP.
The FTSE US Quality Dividend ETF (OUSA B+) began trading this morning, tracking the FTSE US Qual / Vol / Yield Factor 5% Capped Index. The index is designed to measure the performance of U.S.-listed large- and mid-cap dividend-paying companies that meet certain requirements, including:
Market capitalization
Liquidity
High quality
Low volatility
Dividend Yield
More specifically, O'Leary's criteria for this fund includes a total yield close to 3%, and a portfolio featuring 20% less volatility than the broader market with stocks that all have strong balance sheets. The high-quality and low-volatility screens are designed to mitigate exposure to what dividend investors call a value trap – which occurs when a stock's yield increases significantly due to a large price decline.
---
Content continues below advertisement
Under the Hood: OUSA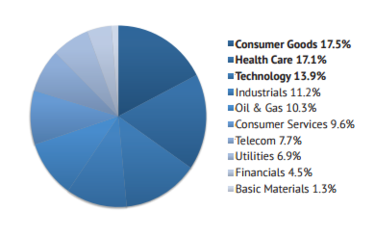 OUSA's resulting portfolio consists of 142 individual securities that have a weighted average market cap of about $152 billion. The average dividend yield is 3.2%. The fund's expense ratio is 0.48%.
The holdings are diversified across 10 sectors, with consumer goods equities accounting for the largest portion of assets (approximately 17.5%). Health care, technology, industrials, and oil & gas sectors each receive allocations of more than 10% of total assets. Diving a bit deeper, OUSA allocates more than 7% to each of the following sub-sectors: pharmaceuticals & biotechnology (15%), oil & gas producers (10%), technology hardware & equipment (10%), and fixed line telecommunications (7.5%).
As of 7/14/2015, the fund's top 10 holdings are as follows:
| Ticker | Name | Weight |
| --- | --- | --- |
| JNJ | Johnson & Johnson | 5.03% |
| XOM | Exxon Mobil Corp. | 5.03% |
| AAPL | Apple Inc. | 5.01% |
| T | AT&T | 3.79% |
| MSFT | Microsoft Corp. | 3.75% |
| VZ | Verizon Comm. | 3.72% |
| PFE | Pfizer | 3.23% |
| PG | Proctor & Gamble | 3.08% |
| PM | Philip Morris Intl. | 2.94% |
| CVX | Chevron | 2.73% |
O'Leary Excited for O'Shares Pipeline
Though O'Shares only debuted one ETF today, O'Leary plans to launch four more funds in the coming 90 days, each of which will employ the same high-quality dividend strategy to markets outside of the U.S. According to the SEC filing, the funds in O'Shares pipeline include:
O'Shares

FTSE

Europe Quality Dividend

ETF

(

OEUR

)
O'Shares

FTSE

Europe Quality Dividend Hedged

ETF

(

OEUH

)
O'Shares

FTSE

Asia Pacific Quality Dividend

ETF

(

OASI

)
O'Shares

FTSE

Asia Pacific Quality Dividend Hedged

ETF

(

OAPH

)
Commenting on the investment objective behind these funds, O'Leary told CNBC, "This is what I am putting my own money into. The hope is that this is where I put my money for the equity portion of my trust and hold it for the rest of my life."
Additionally, O'Leary stated: "To make the cut for me, an ETF has to be created from stocks that have quality, low volatility, and dividend yield. There are thousands of ETFs on the market but I couldn't find one that gave me all of these metrics together so I created my own ETFs, called O'Shares. My first is OUSA and because I wanted it to be liquid and available to investors globally I chose to list it on NYSE Arca, the premier exchange for listing ETFs."
Follow me on Twitter @DPylypczak.
Disclosure: No positions at time of writing.