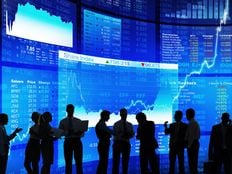 The analysts here at ETF Database analyzed the search patterns of visitors to our site during the week. Below you'll find our analysis of the top 5 trends. By analyzing these trends we hope to unlock a better understanding of those investment themes on our site and in the market.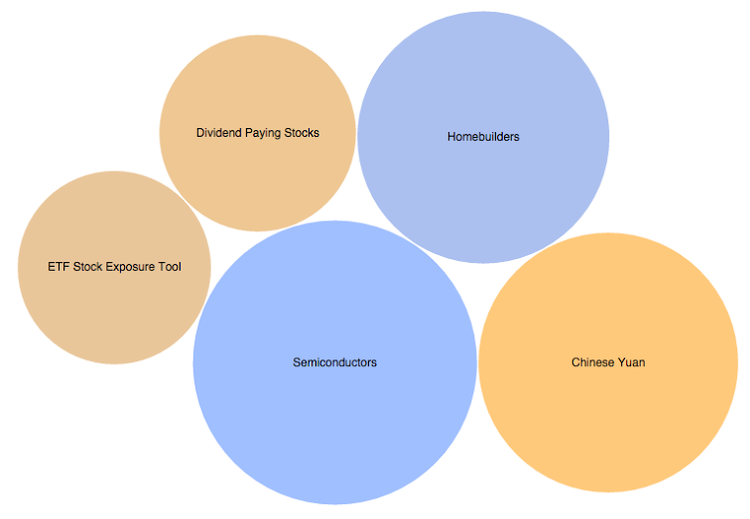 Semiconductor ETFs
Semiconductors ETFs have been trending recently; the Semiconductors ETF List page traffic has increased by 74% since last week. The semiconductor sector has performed poorly this year, with a decrease of 8% YTD. It seems that investors are looking for exposure to Intel (INTC) earnings since the Santa Clara, California-based chipmaker, reported earnings Tuesday that beat analyst expectations, with 64 cents per share versus the expected 59 cents.
Over the past few weeks, we have seen the shares of various semiconductor companies beat earnings expectations. Beginning the earnings season was Micron Technology (MU), one of the leading providers of semiconductor technology, which reported 37 cents per share, ahead of the 31 cent per share market estimate. Another big player that will report earnings this upcoming November is Qualcomm (QCOM), with consensus forecast of 71 cents a share. Qualcomm has had a rough year since the snapdragon chips were dropped from Samsung's Galaxy phones. The stock is down about 20% YTD.
Going forward the market outlook for the semiconductor industry has mixed views based on the global economic outlook. The global semiconductor industry correlates closely to worldwide GDP growth, and countries reducing their economic growth, such as China, might have a negative effect on the sector. On the upside it seems that there might be more economic stimulus in the eurozone from the ECB; an outcome of economic expansion in that region may result in an upward push for world GDP growth.
---
Content continues below advertisement
Chinese Yuan
The RMB (Chinese yuan) ETF List was a top trending page on ETF Database this week, with a dramatic increase in traffic by 64%. It looks like our readers were interested in ways to play the Chinese currency. A simple way to do that is by using the ETFs on this page.
The main reason for all the hype regarding the Chinese economy was the nation's third-quarter GDP rate reported this Monday. There were mixed signals in the market after the release of the 6.9% GDP figure, which beat the analyst consensus of 6.8%. This is the lowest rate since the 6.2% figure of 2009. However, many investors remain sceptical as to whether the released data is legitimate.
If we break down the GDP further, the data suggests that some industries in China are performing better than expected while some are underperforming. The rate can be broken down into three industries:
Primary, which includes net exports (exports minus imports).
Secondary, which consists of manufacturing and construction.
Tertiary, which consists of services and consumption.
Services and consumption have performed better than expected at a rate of 8.4%, which helped mitigate the drag on GDP caused by manufacturing (with a rate of 6%) and net exports. The primary industry (net exports) showed the worst rate out of the bunch, at negative 1.8% GDP growth. The shift in the Chinese economy is showing a trend towards services and consumption, and away from manufacturing and exports.
Homebuilder ETFs
The Homebuilders ETF List page trended high this week, with traffic increasing by 63%.
This is likely due to the sentiment gauge released this Monday. Investors may have been looking for ways to play on the news. The National Association of Home Builders/Wells Fargo Sentiment Gauge increased to a ten year-high this month. Sentiment increased from 61 to 64 for the month, which is great news for homebuilder stocks and ETFs. A reading above 50 means that most respondents agree that the home building industry is doing well.
The labor market is doing well in the U.S. right now and interest rates remain low, making housing affordable. Whether they will remain low or not will be decided during the next Fed meeting on October 27. That's definitely something investors should keep an eye on.
Q3 Earnings and ETFs
One of our biggest trends this week was the ETF Stock Exposure Tool. This tool allows investors to quickly identify all U.S-listed equity ETFs with significant exposure to a particular security. This tool saw an increase of 47% in user traffic. Our guess is that the surge in traffic was due to earnings season. Investors are looking for ways to play on the earning announcements using ETFs. Some of the biggest names have reported and will continue to report quarterly results this week.
Last week was mainly about the financial sector and most of the Bulge Bracket banks. There were several big surprises, including General Motors (GM), with an EPS of $1.50, versus the estimate of $1.18. Boeing (BA) also reported earnings of $2.52, versus the estimate of $2.22. The "Big Blue" IBM reported earnings of $3.34 per share, versus analyst estimates of $3.30. Also in the technology sector, Ebay (EBAY) beat investor expectations, with earnings of 43 cents per share, versus the 33-cent estimate. This week the health care sector also released some big surprises, with Biogen (BIIB) reporting earnings of $4.48 per share, versus the $3.83 estimate.
Looking ahead there remain a few important names that will report earnings this week and have a significant impact on the market. Thursday brings companies such as Mcdonald's (MCD), Alphabet (GOOG), United Airlines (UAL), Caterpillar (CAT) and Microsoft (MSFT). Friday offers American Airlines (AAL), Procter & Gamble (PG) and Citizens Financial group (CFG).
Dividend-Paying ETFs
Dividend ETFs have been trending recently and traffic to this page has increased by 26% since last week. It seems that our readers are looking for diversified opportunities to generate cash flow. Our list includes bonds, equity, commodities, as well as other asset classes with ETFs that pay dividends.
One assumption we can make from the trend is that due to the aging population investors are looking for ways to generate more cash flow rather than simply attaining capital appreciation. Since the markets have been extremely volatile in recent months, investors nearing retirement may need a "safe" cash flow amount every month or quarter. Therefore, the focus on dividend-paying ETFs and stocks should continue in the years to come.
For more dividend related news and resources, check out Dividend.com.
The Bottom Line
As the week goes on, we've seen that China continues to have a big impact in the market after the release of its GDP figure above the 6.8% expectation. This took some pressure off the global markets, though there are still some remaining concerns, such as the slowdown in manufacturing and the accuracy of the GDP deflator.
With earnings season continuing, we expect the dividend ETFs trend to continue, along with the semiconductor industry. Some of the biggest names in that industry, like Qualcomm, will report earnings in a few weeks.
By analyzing how you, our valued readers, search our property, we hope to uncover important trends that can help you understand how the market is behaving so you can fine-tune your investment strategy. Each Thursday, we'll share these trends for the week, giving you better insight into the relevant market trends that will allow you to make more valuable decisions for your portfolio.