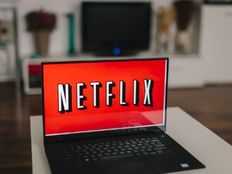 The so-called FANG stocks – an acronym representing Facebook (FB), Amazon.com Inc. (AMZN), Netflix Inc. (NFLX), and Alphabet Inc. (GOOG) – recovered a lot of ground over the past three months after falling sharply in January and February. However, the rally could be in jeopardy following Netflix's lackluster earnings on April 18. Alphabet will be next to report earnings on April 21, followed by Facebook on the 27th and Amazon on the 28th.
Below, ETF Database takes a closer look at FANG performance, valuations, and what these trends mean for investors moving into the second half of the year.
---
Content continues below advertisement
What Happened at Netflix?
Netflix shares fell more than 10% on Tuesday after the company forecast lower net international subscriber additions for the second quarter than the market was expecting. The streaming video provider anticipates adding less than half as many subscribers as it did during the first quarter.
CEO Reed Hastings called the drop off a "modest effect from the beginning of the un-grandfathering" in a shareholder letter, referring to the $2 monthly price increase to its most popular plan, but the true cause remains uncertain. International markets are notoriously difficult for U.S. companies to enter given the many cultural differences, while the global economic slowdown could be adversely impacting growth rates as well.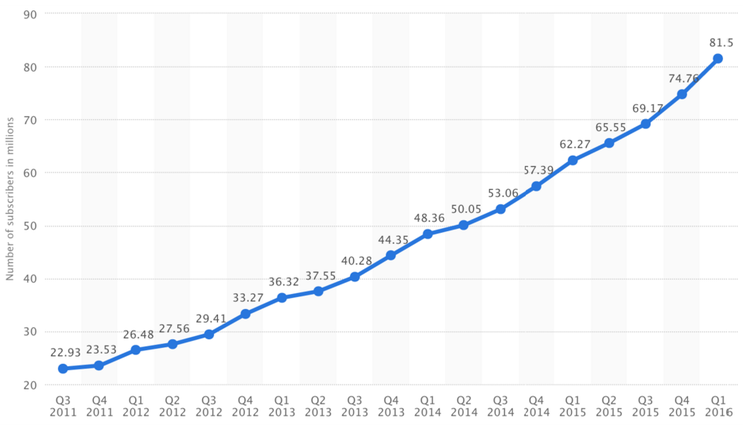 With a price-earnings multiple of more than 330x, investors are relying on significant subscriber growth rates to justify the valuation over the long run. The company anticipates earning $1.05 per share next year, which would value the stock at about 92x earnings. But growth rates will need to continue to accelerate to justify even that number, especially with plans to increase spending on content from $5 billion this year to $6 billion next year.
High First-Quarter Expectations
Alphabet investors will be closely watching core earnings at Google, which beat expectations during the first quarter thanks to holiday advertising. In addition to the headline figures, the market will be watching for insights into cloud computing, mobile monetization, and controlled expenses as it moves into "moonshot" areas. European antitrust issues have also remained a key area of focus for investors given the potential risks for fines.
Facebook faces similarly high expectations following its blockbuster fourth-quarter earnings. In addition to the headline numbers, the market will be closely watching other narratives, including user growth, engagement metrics, and progress in developing Instagram, Messenger, WhatsApp, Groups, and Oculus into significant businesses. The company will need to report over 1.6 billion monthly active users to keep up these growth rates.
Finally, Amazon faces similarly high earnings expectations after a strong fourth-quarter performance. The company is poised to hit its revenue numbers but could struggle to meet expectations when it comes to bottom-line profits. With increasing competition for its web services and higher costs for online retail, the company could see margin pressures at a time when it's investing in a streaming business to rival Netflix.
Valuations Remain Lofty
Netflix's slower-than-expected growth has drawn attention to tech valuations, which were responsible for the dramatic fall earlier this year. Often times, investors move into defensive names when the market shows bearish signs, as it did in mid-February. Growth stocks – including Internet stocks – moved sharply lower, especially those with price-earnings ratios that were very lofty relative to the S&P 500's already above-average multiple.
According to our Internet ETFs page exchange-traded funds (ETFs) holding FANG stocks have some of the loftiest valuations within the tech industry.

These valuations must be read in the context of the overall market, as well as investor expectations for future growth. With the U.S. remaining in a bull market, growth stocks will continue to be in focus and the Internet sectors remain one of the fastest growing corners of the market. Meeting earnings expectations might be enough to keep the rally moving forward as the FANG stocks look to break into the black over the full-year period.
The Bottom Line
The FANG stocks have been strong performers since the market turnaround in mid-February, but Netflix's lack of subscriber growth could be a bad omen for things to come. Investors will be keeping a close eye on upcoming earnings reports at Alphabet, Facebook, and Amazon with high expectations for growth following blockbuster performances during the fourth quarter.