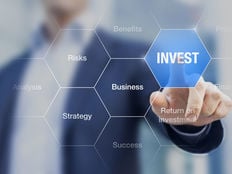 Billionaire investor Warren Buffett shocked many by disclosing a $1 billion stake in Apple Inc. (AAPL) in a routine 13F SEC filing on May 16.
Apple shares fell more than 25% over the past 52 weeks after the company posted a 16% year-over-year fall in iPhone sales during the first quarter. Despite the slowing sales of its flagship product, the company still reported $21.5 billion in cash on its March 26 balance sheet and trades with a price-earnings ratio of just 10.4x compared to its 5-year average of 14.3x and the S&P 500's average of 18.8x – a compelling opportunity for value investors.
In this article, we'll take a look at some ETFs that are overweight in Apple stock, as well as some ETFs holding other stocks that Warren Buffett is buying.
ETFs Overweight in Apple
There are many different exchange-traded funds (ETFs) that hold Apple stock, since it's one of the largest companies in the world. But, when it comes to stocks overweight in the company's stock, investors should look towards tech sector ETFs. Many of these ETFs took a big hit when Apple reported its disappointing earnings, but have recovered to some extent following Warren Buffett's announcement and the market's digestion of the news.
According to our stock exposure tool, the top five ETFs overweight in Apple include:
Investors should keep in mind that these ETFs are influenced to a great extent by other companies in their portfolios aside from Apple. For instance, the iShares U.S. Technology ETF also holds a 12% stake in Microsoft, which means the fund could move lower if Microsoft disappoints – even if Apple continues to recover ground. Investors interested in more direct exposure may want to consider simply purchasing Apple stock outright for their portfolios.
---
Content continues below advertisement
ETFs to Mimic Warren Buffett
Warren Buffett holds a number of different blue chip companies in Berkshire Hathaway's portfolio, according to its regulatory filing. Aside from his well-known investments in Coca-Cola and Wells Fargo, the billionaire investor has upped his bet on technology companies like International Business Machines, oil companies like Phillips 66, and communications companies like Charter Communications Inc. and Liberty Media Corp.
Some of his new purchases include:
Some of his largest holdings include:
There are many ETFs that track these companies. The First Trust NASDAQ Technology Dividend Index Fund (TDIV A-) holds an 8.39% stake in IBM and the iShares U.S. Oil & Gas Exploration and Production ETF (IEO B+) holds an 8.11% stake in Phillips 66. But as with Apple ETFs, investors should be aware that these ETFs also hold large stakes in other companies that may not be as desirable as the specific companies that Warren Buffett has picked.
To check which ETFs have exposure to any stock, check out the stock exposure tool.
The Bottom Line
Billionaire investor Warren Buffett surprised the market with a $1 billion investment in Apple following its dramatic decline over the past 52 weeks. Investors in many technology ETFs that are overweight in Apple may benefit from this move if the stock recovers. Those looking to mimic the iconic investor in other ETFs have many different options, including those overweight in some of his favorite stocks of late – like IBM and Phillips 66.