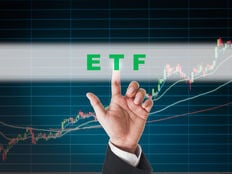 This week, exchange traded fund (ETF) issuers went old school when it came to their launches. The three funds hitting the tape this week—from iShares, First Trust and Recon Capital—all focused on tried and true themes and strategies. This is a sharp contrast to the recent explosion in smart beta ETFs that screen for various factors to create a better play on average.
This week was all about plain, old dividends and commodities futures.
Although those themes have been staples in the ETF world for years now, the difference is in the market segments and how they are presented. Ultimately, the three funds put a new spin on the classic themes and continue adding to investors' toolboxes.
iShares International Play
Historically, the bulk of dividend-related ETFs have focused solely on yield—thanks to low interest rates and investors' thirst for income. However, firms that grow their payouts over time have actually been the star performers. The new iShares International Dividend Growth ETF (IGRO B) takes that strategy and applies it to firms domiciled overseas.
Launched on May 17, IGRO will follow a similar mandate to its sister fund—the iShares Core Dividend Growth ETF (DGRO A). IGRO's underlying index will screen for those large-cap firms that pay qualified dividends and have grown those payouts for at least five straight years. The Morningstar Global ex-US Dividend Growth Index will also screen for the firms that have payout ratios of less than 75%.
The key benefit of IGRO is that it applies the screens to stocks located overseas. This includes both developed and emerging markets. So investors get dividend growth exposure to places such as France and South Africa, but the bulk of the ETF is still located in the developed world.
Ultimately, IGRO could be used as a complement to DGRO for investors looking to add a dash of dividend growth to their portfolios. The pairing of the two funds would provide comprehensive coverage of all the large-cap dividend growers across the world.
And while technically not part of iShares low-cost "core lineup," IGRO expenses are still pretty darn cheap. The new ETF costs only 0.22%—or $22 per $10,000 invested—in annual expenses.
---
Content continues below advertisement
A Dose of Latin American Dividends
A relative newcomer to the ETF business, Recon Capital has also jumped on the dividend theme with its latest launch on May 18. The new BullMark LatAm Select Leaders ETF (BMLA ) will focus its dividend attention on Latin America.
BMLA will track a propriety index that will seek out high-quality dividend paying stocks located in emerging Latin America. This is the first time an issuer has directly focused on dividend paying equities in places such as Brazil, Mexico, Chile, Columba and Peru. The fund's underlying index will screen for those stocks in nations with a trailing 12-month dividend yield of at least 2%. The index also applies screens for liquidity and market cap requirements, and holdings are ranked by yield market liquidity.
Over the past few years, Latin America hasn't exactly been a hot spot of returns or investor sentiment. Dividends have been a great way to provide some cushion to portfolios, and BMLA gathers assets as investors seek them in Latin America. The only problem could be its high expense ratio of 0.70%.
First Trust Bets on Commodities
Managed futures have been around for a long time as investment vehicles. The strategy that goes long and short various currency, commodity, stock and bond index derivatives is designed to provide a stable return—no matter what the market environment. In terms of ETFs, the investment type has been heating up as more issuers have begun using offshore subsidiaries to gain exposure to the futures contracts. That means no K-1 statements.
The actively managed First Trust Alternative Absolute Return Strategy ETF (FAAR ), which launched on May 18, will take long and short positions in commodity futures. FAAR will invest 25% of its assets in its Cayman Islands subsidiary and place the rest in T-bills and cash for collateralization. This differs slightly from its sister fund, the First Trust Morningstar Managed Futures Strategy Fund (FMF), which can also bet on currencies and stock indexes. Because it is actively managed, the hope is that long and short positions create a stable return over the long haul.
Expenses for FAAR run a high 0.95%, but that is far less than it would cost to own a regulated commodity pool.
The Bottom Line
IGRO, BMLA and FAAR offer unique takes on old themes. IGRO and BMLA are dividend focused, whereas FAAR is an absolute return vehicle that uses futures. The three new ETFs ultimately add a new series of tools that investors can use to craft their portfolios.