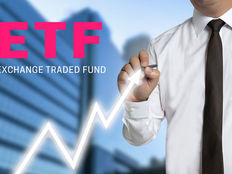 This week's round of new exchange-traded funds (ETFs) hitting the tape continued the trend of traditional mutual fund companies beefing up their ETF offerings to compete with the popularity of passive indexers.
Launching funds were two of the largest fund companies around – Janus and Columbia. While not newcomers to the ETF scene, both fleshed-out their growing line-ups with a series of smart-beta and thematic ETFS that covered a wide range of strategies.
For Janus, that meant diving headfirst into the world of health and wellness with four new ETFs. Columbia decided to take a more traditional smart-beta approach with its three new funds.
Either way, it goes to show how popular ETFs continue to become and how more mutual fund houses continue to step into the ETF arena to launch new products.
A Focus on Wellness at Janus
Following its recent small- and mid-cap ETF launches, Janus is taking advantage of some big-time demographic and cultural trends affecting our society. Namely, our increased demand for health and wellness items. However, unlike a traditional healthcare ETF such as the Health Care SPDR (XLV A), Janus has taken a vastly different approach. The asset manager's four ETFs, which all launched on June 8, focus on the trends of our gaining population: the obesity epidemic, eating healthy and the desire to get fit. While there is exposure to pharmaceutical firms in some of the funds, the broad mandate of "wellness" produces a vastly different approach to health.
The Janus Long-Term Care ETF (OLD C) will seek to profit from the "greying" of the world and our growing elderly population. This includes everything from long term care and skilled nursing centers to adult diaper manufacturers. The Janus Obesity ETF (SLIM ) will follow a similar approach and look for firms directly benefiting from our expanding waistlines. That can include everything from diabetes testing supplies to plus-sized apparel retailers.
The opposite – and perhaps the prevention side of OLD and SLIM – are the Janus Health & Fitness ETF (FITS ) and Janus Organics ETF (ORG B-). The ETFs will allow investors to tap into the rising demand for fitness products and quality organic/natural foods, respectively. Like their counterparts, these ETFs take a broad approach to building their portfolios and aren't tied down to one sector of the market, i.e. consumer plays, tech stocks, etc.
The four ETFs follow new global indexes from Solactive and charge 0.50%, or $50 per $10,000 invested. On the whole, the thematic and all-encompassing approach could be a big hit for investors and Janus.
---
Content continues below advertisement
Columbia Focuses on Dividends
While Janus took a "wild" slant with its new funds, Columbia's three funds were a bit more staid. Launched on June 13, the Columbia Sustainable U.S. Equity Income ETF (ESGS A-), Columbia Sustainable International Equity Income ETF (ESGN B-) and Columbia Sustainable Global Equity Income ETF (ESGW B), all use fundamental screens to craft a portfolio of dividend stocks.
The ETFs – which hold either U.S. stocks, developed market intentional stocks, or both – track Beta Advantage indexes that screen broader MSCI benchmarks. The new indexes will screen for dividend yield, dividend growth potential and various dividend coverage ratio factors. All the stuff most smart-beta ETFs look for. The twist is that the three ETFs will also apply various environmental, social and governance (ESG) screens on top of that. This marks the first time that investors get a smart-beta and fundamental option with regards to socially responsible funds.
Stocks are scored and weighted based on the combination of all these dividend and ESG factors. ESGN and ESGS will hold the top 100; ESGW will hold 200 different socks.
Expenses for ESGS run 0.35%. ESGN charges 0.45% and ESGW charges 0.40%.
The Bottom Line
Ultimately, the suite of launches from Janus and Columbia highlight the innovation and new areas in which sponsors are willing to develop new products. It also highlights just how popular ETFs are becoming. Expect more traditional mutual fund firms to jump on the ETF bandwagon in future months.