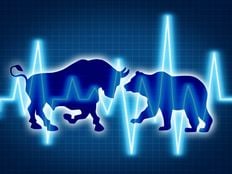 To help investors keep up with the markets, we present our ETF Scorecard. The Scorecard takes a step back and looks at how various asset classes across the globe are performing. The weekly performance is from last Friday's open to this week's Thursday close.
The big news this week was the Federal Reserve's decision to increase interest rates by 25 basis points to 1%. The move was widely expected, but analysts also believed the Fed would assume a more hawkish stance along with the hike. That was not the case – the Fed stood by its previous estimate of three rate hikes this year, disappointing investors who had expected a statement of four increases.
Another important event this week was the parliamentary elections in the Netherlands. The nation was the first country in continental Europe to face the populism test. The right-wing, anti-immigration Party for Freedom was dealt a blow by establishment politicians, putting to rest investor fears of a European Union breakup. The euro rallied on the results.
The U.S. labor market continued to improve. The U.S. economy added 235,000 jobs in February, well above expectations of 200,000. Meanwhile, the unemployment rate stood still at 4.7% and average hourly earnings rose 0.2%, which was less than the 0.3% estimated.
U.S. budget deficit for February stood at $192 billion compared with consensus of $181 billion. Year-to-date, the deficit of $385 billion is 0.7% lower than last year.
U.S.

CPI

jumped 0.1% in February. Year-over-year,

CPI

rose by 0.2% to 2.7%.
U.S. retail sales edged up just 0.1% in February, meeting estimates. The January figure was revised up to 0.6% from 0.4% previously.
Unemployment claims for the week ended February 11 stood at 241,000, roughly in line with expectations.
Philadelphia Fed Business Outlook Index rose to 32.8, comfortably trumping expectations of 30.
The Bank of Japan kept its ultra-loose monetary policy on hold and did not offer any suggestions about when it may start slowing down its 80 trillion yen monthly asset purchases. Although the Japanese economy is benefiting from rising interest rates in the U.S., the domestic picture leaves much to be desired. Year-over-year, inflation is up just 0.4% in January, while core inflation returned to positive territory at 0.1%.
Risk Appetite Review
The broad market (

SPY

) was slightly up over the past week by 0.21%, representing the worst performance from the bunch.
Equal Weight (

RSP

) was the best performer this week, up 0.48%.
Sign up for ETFdb Pro and get access to real-time ratings on over 1,900 U.S. listed ETFs.
---
Content continues below advertisement
Major Index Review
Global equities were all up again this week, with one small exception.
Emerging markets (

EEM

) jumped the most this week, by 4.41%, largely because the U.S. Federal Reserve signaled fewer rate increases this year than expected, three vs. the predicted four. Many of these markets look undervalued compared to their American counterparts. (

EEM

) was also the best performer for the rolling month, advancing 3.18%.
Dow Jones (

DIA

) was the worst performer this week, falling by 0.12%, as the Federal Reserve increased rates. The slight correction comes after weeks of outstanding performance on the optimism stemming from Donald Trump's promised fiscal stimulus.
After being the worst performer last week, this week the iShares Russell 2000 Index (

IWM

) became the sole faller for the rolling month, although down by only 0.02%. To see how these indices performed last week, check out

ETF

Scorecard: March 10 Edition.
Foreign Equity Review
Foreign equities were in rally mode.
India (

EPI

) is again the best performer this week, as the nation's equities continue a recovery from the physical currency ban debacle. (

EPI

) was up 4.74% this week, as confidence is rising in Narendar Modi's economic reforms. A dovish Fed also helped. (

EPI

) is also the best performer for the rolling month, up 7.62%.
With an advance of just 0.72%, Japan (

EWJ

) is the worst weekly performer, despite Bank of Japan signaling an ultra-dovish stance on monetary policy.
Russia (

RSX

) is again the worst performer for the rolling month, down a stunning 6.16%. The country's equities suffered from falling oil prices and a probable delay in having Western sanctions lifted.
To find out more about ETFs exposed to particular countries, check our

ETF

Country Exposure tool. Select a particular country from a world map and get a list of all ETFs tracking your pick.
Commodities Review
Commodities were rather mixed.
For the rolling month, gold (

GLD

) was the best performer, but still fell 0.66%.
Unsurprisingly, oil (

USO

) posted the worst performance for the rolling month, dropping 9.76%, as stockpiles in the U.S. have risen consistently ever since

OPEC

announced a deal to cut supply. Use our Head-to-Head Comparison tool to compare two ETFs such as (

GLD

) and (

UNG

) on a variety of criteria such as performance,

AUM

, trading volume and expenses.
Currency Review
For more ETF analysis, make sure to sign up for our free ETF newsletter.
Disclosure: No positions at time of writing.