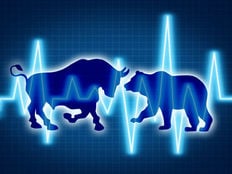 To help investors keep up with the markets, we present our ETF Scorecard. The Scorecard takes a step back and looks at how various asset classes across the globe are performing. The weekly performance is from last Friday's open to this week's Thursday close.
Chinese President Xi and U.S. President Trump began their 24-hour meeting on Thursday afternoon to talk about trade policy between the two world powers. President Trump has claimed that China is a "grand champion" of currency manipulation and that U.S. exports have suffered from the devaluation of the yuan. Another topic of conversation is Trump trying to press China to economically leverage North Korea from developing nuclear weapons.
Bank of Japan's Governor Kuroda spoke this week about the nation's deflationary issues. He believes that gaining the people's confidence is important for the economy to achieve the 2% inflation goal. However, business leaders expect annual price growth of only 0.7% next year, 1% in three years and 1.1% in five years, which are all lower than BOJ's target.
International trade data was released on Tuesday, showing a decline of $43.6 billion. This was better than the consensus of a $44.5 billion decline and was reflected upon a 1.8% drop in imports and only a 0.2% gain in exports. The trade deficit has centered around strong demand for foreign consumer goods and foreign autos.
ADP

Employment Report data came in at 263,000 for March, below the levels of both January and February. However, this was considerably higher than estimates of 170,000 and surpassed even the high end of the consensus range of 200,000. This month's strength was driven by large gains in construction and manufacturing.
Jobless claims data showed a large decline of 25,000 jobs this week, bringing the total claim amount to 234,000. This surpassed the consensus estimate of 250,000 and brings down the four-week average to 250,000. This measure solidifies the idea that the labor market is very strong and that jobless claims continue to be at record lows.
Oil prices increased over the $50-per-barrel mark this week on news of a positive

EIA

Petroleum Status report. Crude oil inventories showed an increase of 1.6 million barrels for the last week in March to 534 million, which is up 7.4% on a year-over-year basis.
Risk Appetite Review
The Low Volatility (

SPLV

) was the best performer of the week, but was still negative down 0.18%.
The Equal Weight (

RSP

) was the worst performer of the week, down 0.26%.
Sign up for ETFdb Pro and get access to real-time ratings on over 1,900 U.S.-listed ETFs.
---
Content continues below advertisement
Major Index Review
Global equities were predominantly negative for the week, with emerging markets showing the only gains.
Emerging Markets (

EEM

) was the week's only gaining index, increasing 0.05%. It also continues to be the best-performing rolling 1-month index, up 2.90%.
The Russell 2000 Index (

IWM

) was the week's most declining index, down -1.34%. The Russell 2000 is also one of the worst-performing indices for the month, down -1.32%.
Foreign Equity Review
Foreign equities were a mixed bag this week, with gains coming only from Russia, India and China.
Commodities Review
Commodities were all up for the week, with the exception of agriculture. For a full list of all commodity ETFs, click here.
Oil (

USO

) was the best-performing commodity, up 3.23%. However, it remains negative with a rolling 1-month return of -4.57%. with a -4.57%.
Natural gas (

UNG

) was the second best-performing commodity, up 2.09% for the week, and is still the best-performing commodity on a 1-month basis, up 13.50%.
Agriculture (

DBA

) was the week's worst performer, down -0.96%.
Currency Review
Currencies were a mixed bag this week, with the biggest news focused on the beginning of Brexit. For a list of all currency ETFs, click here.
The Japanese Yen (

FXY

) was the week's best-performing currency, up 0.75%. It's also the best rolling 1-month currency, up 2.95%.
The Australian Dollar (

FXA

) was the worst-performing currency, down -1.27% for the week.
The British pound (

FXB

) continues to show little movement, up only 0.03% for the week. This is good news considering Brexit with Article 50 started last week.
Use our Head-to-Head Comparison tool to compare (FXY C) and (FXB B) on a variety of criteria, such as performance, AUM, trading volume and expenses.
For more ETF analysis, make sure to sign up for our free ETF newsletter.
Disclosure: No positions at time of writing.