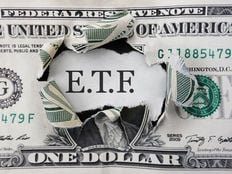 This week marked two very significant milestones for the world of exchange-traded funds (ETFs). The first being that there are now 2,000 different ETFs listed from which investors can choose. While there have been more launches – 2,710 to be exact, thanks to closures – the number has stayed below that 2,000 mark for quite some time.
With that listing milestone came the very first ETF that tracks the global ETF industry. The irony wasn't lost on the market gods, however. The fund was the 1,999 listed ETF and the winner was actually an exchange-traded note (ETN).
Either way, it is exciting to see how the industry has grown and how investors of all stripes have embraced the fund structure for their portfolios.
---
Content continues below advertisement
Credit Suisse Answers the Oily Call
While options investing conjures images of fast-paced trading and big-time bets, the reality is, it's mostly a way to limit risk and generate income. But it's still a difficult nut to crack for most retail investors. ETFs have made implementing the strategy easy to do. Exchange-traded note sponsor Credit Suisse has several funds that have options exposure as their mandate, which brings us to its latest release and the 2,000 ETF listed: the X-Links Crude Oil Shares Covered Call ETN (USOI ).
USOI will track the Credit Suisse Nasdaq WTI Crude Oil FLOWS 106 Index. While that sounds like a mouthful, it's essentially written calls on oil futures. How it does that is unique. USOI will maintain a long position in the uber-popular United States Oil Fund, LP (USO B), which holds front-facing oil futures. USOI will then sell call options on that position on a monthly basis that are approximately 6% out-of-the-money (i.e. the strike price is 106%).
What does that do? It lowers the volatility of owning USO and oil futures, as the income generated from the options offsets a potential decline in crude. However, it does cap the upside potential as well. It also produces a massive yield. Currently, USOI's index is paying over 11%. The caveat here is that that monthly dividend will vary as the options contracts are written.
While USOI won't function like its underlying USO to be a real measure of crude oil prices, it will serve as a way for conservative investors to enter the commodity market and add diversification to their portfolios. Covered call writing doesn't function like anything else. Moreover, USOI's expense ratio of 0.85% isn't that much more than USO's. In the end, the ETN could find a place in income seekers portfolios.
For a full list of all of Credit Suisse ETFs, check out its issuer page here.
Exchange-Traded Concepts Gets Its Own ETF
With 2,000 funds and trillions of dollars' worth of investor assets, it's no secret that ETFs have become big business. Boutique ETF sponsor Exchange Traded Concepts' existence was born of that fact. And given how big the industry has become, it was only a matter of time before an "ETF of ETFs" was born.
The ETF Industry Exposure & Financial Services ETF (TETF ) allows investors to tap into the growth of the sector.
TETF will track an index comprised of publicly traded firms that derive the bulk of their revenue from the entire ETF ecosystem. This includes asset managers, market makers, gatekeepers and marketing firms. The ETF will hold 38 different firms and allocate about 75% of its weight to companies deemed to have "significant" levels of ETF industry participation. A further 15% is allocated to firms viewed as moderate ETF participants, while the final 10% is allocated to companies with small or below-moderate ETF exposure. So it's not surprising to see firms like CBOE Holdings, Inc., BlackRock and S&P Global Inc. dominate the ETF.
The question for investors is whether TETF's high expense ratio of 0.64% is worth it, or if it's better to just buy BlackRock or State Street to get the exposure. Either way, the launch of TETF shows just how far the sector has grown and highlights the future projection of the industry.
For a list of all new ETF launches, take a look at our ETF Launch Center.
The Bottom Line
While there weren't many launches this week, they were significant ones that allowed us to hit a very important milestone. In the end, the launches of TETF and USOI show the innovation in the ETF sector and highlight just how big we're getting.
Sign up for ETFdb.com Pro and gain access to more than 50 all-ETF model portfolios, each of which is backed by a unique investment thesis.