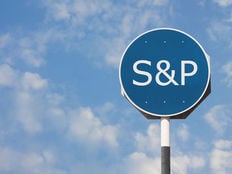 ETF providers have come up with any number of ways to slice up an index. Some are split between growth and value. Others are separated into high and low volatility. This week, we see another method of splitting up an index – by its sources of return.
Newcomer Metaurus has developed a pair of new funds, each targeting a different component of the S&P 500's total return. They are non-traditional in structure, but represent another unique entry into the ETF marketplace.
Here are this week's new fund launches:
---
Content continues below advertisement
Metaurus Separates the S&P 500's Capital Growth and Dividend Yield
Many equity funds deliver shareholder returns via one of two methods – share price growth and dividend income. If you've ever wanted to invest in those components separately, this is your week, as Metaurus Advisors debuts two unique new funds that use an uncommon strategy to accomplish just that.
The U.S. Equity Cumulative Dividends Fund – Series 2027 (IDIV ) is designed to target the dividend income stream of the S&P 500. It does this by investing in a combination of short-term Treasuries and futures contracts that provide exposure to the dividends paid on S&P 500 companies. It holds futures contracts for each of the next 10 years, the targeted life of the fund, and will use its positions to make monthly distributions that will approximate the annual dividend income of the S&P 500.
The U.S. Equity Ex-Dividends Fund – Series 2027 (XDIV ) tackles the share price growth component of the S&P 500. The fund takes long positions in S&P 500 futures contracts, while simultaneously discounting the present value of the index's expected dividend payments over the next 10 years.
Due to the heavy use of futures contracts, the funds will be organized not as ETFs, but as commodity pools. The funds will be treated as partnerships, not investment funds, and therefore will distribute K-1 forms instead of 1099s for tax purposes. At the end of their 10-year lives, both funds will be terminated.
For more ETF news and analysis, subscribe to our free newsletter.
Franklin Expands Its Ultra-Cheap Foreign ETF Lineup
Franklin Templeton made headlines late last year when it launched a series of ultra-low cost country- and region-specific ETFs that were, largely, the cheapest in the industry. It was seen as a challenge to the biggest low-cost ETF providers, such as Vanguard and State Street, to capture market share in the international fund arena. This week, Franklin's LibertyShares ETF family adds several new names to its roster.
The Franklin FTSE India ETF (FLIN C+), the Franklin FTSE Russia ETF (FLRU C+), the Franklin FTSE Switzerland ETF (FLSW B+) and the Franklin FTSE Asia ex Japan ETF (FLAX A-) all continue with the company's low-cost theme. The Switzerland ETF is the cheapest, at just 0.09%, while the other three charge 0.19%. All of the funds are market-cap weighted and focus on large- and mid-cap companies in their respective areas of focus. These latest fund launches bring Franklin's country- and region-focused ETF count to 20.
The Bottom Line
The Franklin fund launches are fairly straightforward entries into the international fund space, but the Metaurus funds are much more interesting. Metaurus uses a passive management strategy for the funds, but the use of futures contracts makes them relatively expensive. These contracts need to be rolled over every month, increasing the fund's transaction costs. The funds might offer to fill unique needs in certain investors' portfolios, but the costs might be ultimately prohibitive.
ETFdb.com has ETF investing guides and other ebooks to help you navigate the investing landscape using ETFs. Sign up to ETF Database Pro to get access to all the PDFs located on our ETF Guides page.