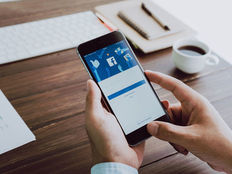 The challenging situation surrounding Facebook's data leak attracted lawmakers and put other technology companies in the limelight this last week.
Trump's latest attempt to reduce America's large trade deficit with China sparked concerns over retaliation measures aimed at companies exporting grains, particularly soybeans. Inverse volatility made a comeback on the list due to renewed fears of escalating trade tensions, while gold proved its safe-haven status by capturing the attention of investors seeking refuge from agitated markets.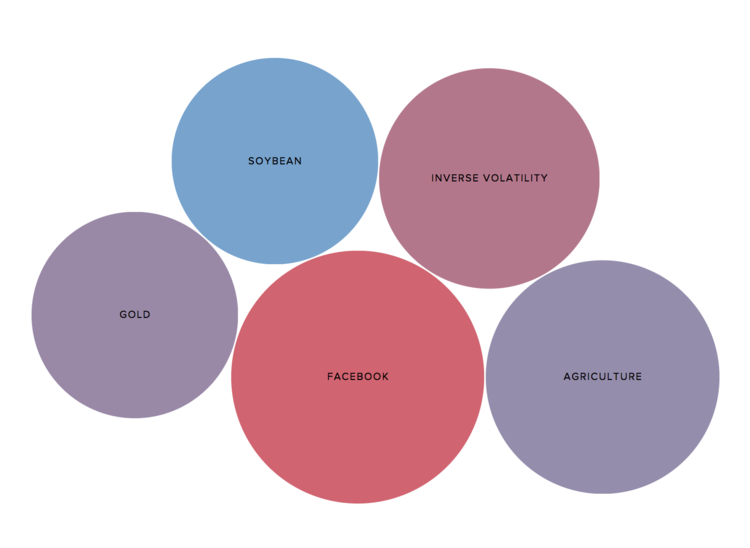 Facebook Data Scandal Spreads Over Entire Social Media Environment
The data misuse scandal is gathering speed and drawing increasingly larger interest in the company, and the sector as a whole, as investors are trying to figure out if this is just a drop in the ocean for the social media giant or a real threat for Facebook and its peers. As such, traffic to Facebook soared by a whopping 1,353% over the last five days.
After catching all the headlines in the early days and wiping out nearly $75 billion of the company's market capitalization in just one week, lawmakers on both sides of the Atlantic called on Facebook CEO Mark Zuckerberg to testify at upcoming hearings on the Cambridge Analytica issue. Zuckerberg declined the invitation made by the House of Commons of the United Kingdom but appeared open to testifying before the U.S. Congress.
Facebook is also facing a Federal Trade Commission probe into whether it violated a consent decree the company signed back in 2011 requiring user consent for sharing data. A failure to comply with the decree could cost the firm anywhere from a few million to billions of dollars. On another front, users and shareholders are starting to file lawsuits against the company's board members and directors over violating their fiduciary duty by failing to stop the data breach or informing users about it when it happened.
Other companies are targeted by lawmakers as personal data use practices have gained priority on their agendas. The U.S. Senate Judiciary Committee said on Monday it had invited the CEOs of Facebook, Alphabet (GOOG) and Twitter (TWTR) to testify at an April 10 hearing on data privacy.
It remains to be seen if Facebook's business will suffer in the long term, especially if countries push for tighter regulation on data usage and transfer. Recent changes of newsfeed algorithms have already prompted a decline in traffic for business pages and this scandal could very well contribute to the reduction of hours spent on the platform, a development already acknowledged on the latest earnings call.
Although appearing to start the week on a calmer tone, Facebook closed in the red on the first day of trading and lost almost 5% on Tuesday. The nervousness quickly spread over the sector prompting the First Trust Dow Jones Internet Index (FDN C+) to lose 4.8% in a single day but keeping the year-to-date performance at a solid 8.85%. The ETF has Facebook as a second holding, behind Amazon (AMZN), while Netflix (NFLX) completes the podium, one reason why it fared better than its peers.
---
Content continues below advertisement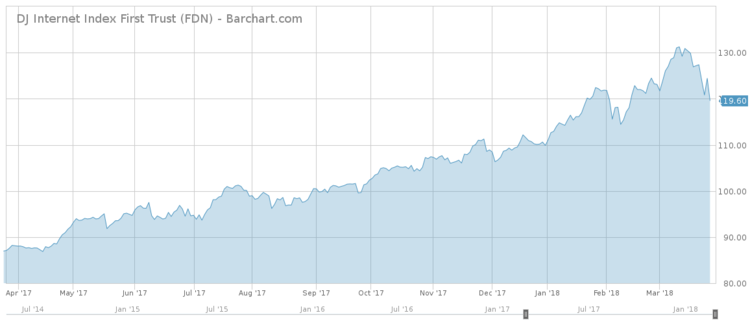 On the other hand, Facebook is taking steps to grant users more power over their data. The company announced yesterday that a new privacy system will be put in place, allowing users to easily delete specific things they've shared or liked in the past, stopping advertisers from having access to that information.
Sign up for ETFdb.com Pro and get access to real-time ratings on over 1,900 U.S.-listed ETFs.
U.S. Agriculture Braces for Chinese Response
U.S. President Donald Trump has made another move in the world trade table, this time aiming at China directly. The announced measures of up to $60 billion in tariffs on a variety of goods imported from China made investors worry about possible retaliation measures and agriculture stands to be the biggest loser. Traffic to Grains ETFs ballooned by 404% as China will most probably hit back through import taxes on different types of grains, like soybean, wheat, corn and sorghum.
China is the second-largest buyer of U.S. agricultural products, amassing $20 billion in annual imports from American farmers. A tit-for-tat response from the Chinese authorities may first hit sorghum exports, a grain mainly used to feed livestock and produce a type of liquor. The impact would be muted as the total amount of this grain sold to China was worth as little as $1 billion, but markets fear that the February anti-dumping and anti-subsidy investigation into sorghum was only the first of many responses by the Chinese government. As trade frictions escalate, tariffs could spread to more economically important sectors, such as soybeans, corn and wheat.
American farmers are already facing another year of declining net incomes as depressed crop prices weigh on profitability and are reminiscent of the 1980's farm downturn. In addition, American farmers could also get squeezed by the newly imposed tariffs on steel and aluminum imports. The metals are used to make a wide array of farm machinery and equipment as well as steel storage bins and metal sheds used for housing livestock.
The iPath Bloomberg Grains Subindex Total Return ETN (JJG B+) suffered a 7.7% correction since the first rumors of tariffs hit the wire but holds positive territory for the year with a 4.15% climb. The ETN gives investors futures-based exposure to the price of corn, wheat, soybeans and soybean-oil.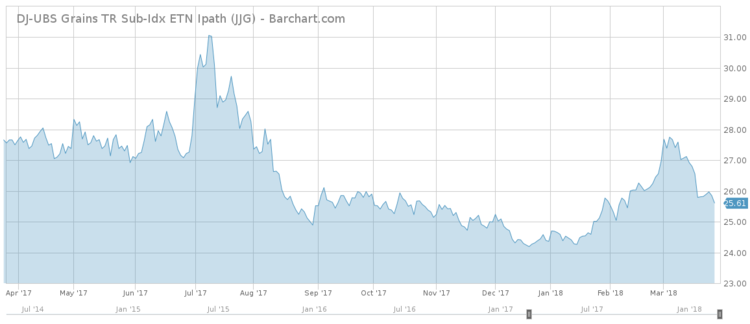 For a deeper analysis on individual ETF investments such as (LIT C+) or (SOCL C), use our ETF Analyzer tool. You can select ETFs by Category or Type, as well as add individual ticker symbols to compare performance, expenses and dividend yield among other metrics.
Inverse Volatility Continues to Suffer as Markets Land Back in the Red
Markets are back on shaky ground as the volatility index shows no signs of calming down to the depressed levels seen throughout 2016 and 2017. Renewed fears over trade spats and possible ramifications in the financial sector shook investor confidence and led to an increase in viewership of Inversed Volatility Products to 123% in the last week.
What appeared like another buy-on-the-dip situation at the start of this month soon began to offer reasons for frustration to market participants trying to take advantage of the wild price swings. It began with rumors of new tariffs on metals but cooled down when they were actually signed as investors cheered the sweetened version. However, a few days later came the $60 billion in tariffs aimed at China and no silver lining was in sight this time. On top of that, the Facebook data scandal erupted and a seemingly perfect storm was formed.
VelocityShares Daily Inverse VIX Medium Term ETN (ZIV B+) posted new yearly lows and returned to levels not seen since May 2017.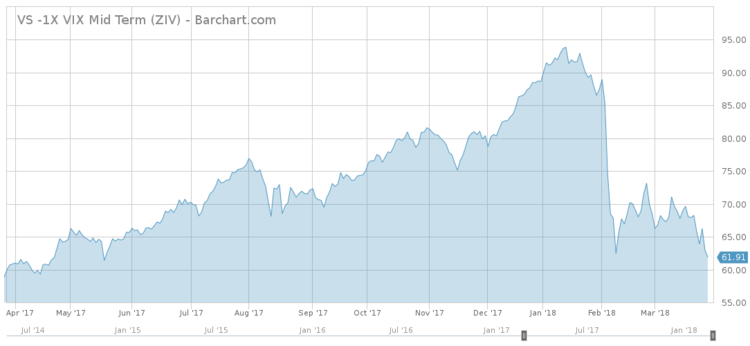 Soybean Industry in the Crosshairs of Trade Spat
The possibility of a firm response to Trump's latest protectionist maneuvers made investors look into those industries that may be targeted by China, and soybean exports are the ideal candidate. As such, soybean ETFs took fourth place on the list with a rise in traffic of 93%.
China is the world's largest buyer of U.S. soybeans with a market share of nearly 50%, worth $14 billion. The industry supports over 300,000 farmers across America and most reside in the leading agricultural states that voted for Trump in the 2016 election.
Over the last year, Brazil ramped up its soybean exports, cutting into the U.S.' soybean market share in China. Data shows an increase of nearly 100% in Brazilian soybean imports relative to the same period last year. The advance is set to continue as analysts anticipate better quality for the Brazilian product in terms of meal and oil extracted after processing when compared to American crops, which were affected by hurricanes and other adverse weather conditions.
Teucrium Soybean (SOYB B) suffered from the trade frictions and retreated from March highs to hold a modest 4% gain for the year.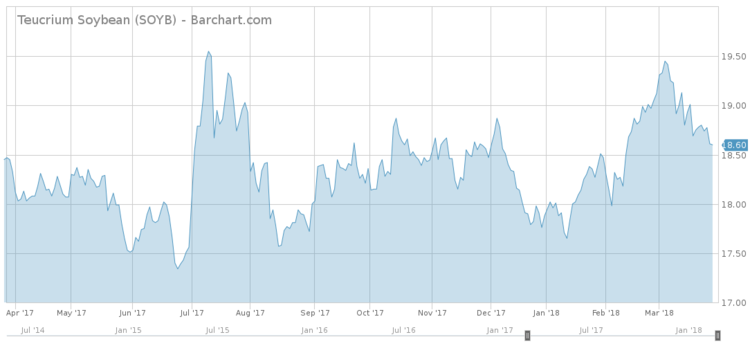 Gold Shines Again Over Tumultuous Markets
Gold has recaptured its historic safe-haven status in the minds of investors seeking to navigate through the present financial hectic environment. Gold ETFs saw their traffic surge 79% in the past five days as demand for the precious metal ebbed and flowed.
The inverse relationship between stocks and gold has been re-established as volatility returned and erratic moves became the new norm.
SPDR Gold Trust (GLD A-) is still up for the year, even if only by 1.68%, and buying pressure may return as the fundamentals seem good. Prolonged equity volatility, bond markets moving higher and increased inflation expectations all point to a spike in flows toward gold for hedging purposes.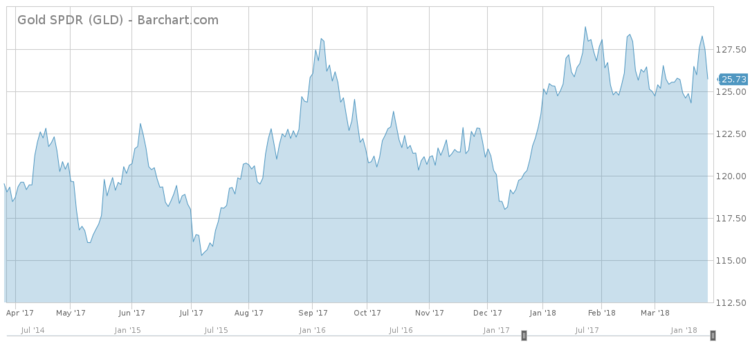 The Bottom Line
Over the last five days, Facebook gathered even more unwanted attention as it struggles to shake off fears over its capacity to safeguard user data. In the meantime, trade tensions reverberate over agricultural products as grains and, more specifically, the soybean industry stand to suffer most if a full-blown trade war erupts. Financial markets have had a rough week as volatility resurfaced and major indices dived back down to February lows. Lastly, gold saved the day with a positive reaction to the latest sell-off but failed to hold onto the gains as buyers are not yet making a strong comeback into the market.
By analyzing how you, our valued readers, search our property each week, we hope to uncover important trends that will help you understand how the market is behaving so that you can fine-tune your investment strategy. At the end of the week, we'll share these trends, giving you better insight into the relevant market events that will allow you to make more valuable decisions for your portfolio.