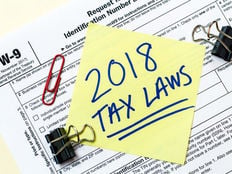 Bond ETFs take center stage this week, as a pair of insurance giants continue to expand their ETF lineups. This trend has continued to grow as the demand for low-cost ETFs increases and insurance companies look to provide customers with in-house investment options.
Here are this week's new fund launches:
---
Content continues below advertisement
Hartford Launches a 'Go Anywhere' Bond Fund
It's not often that we see a bond fund that invests in both taxable and tax-free notes, but that's exactly what we get this week with the debut of the Hartford Schroders Tax-Aware Bond ETF (HTAB B-). It's an actively-managed fund that looks to maximize total return while minimizing the taxable impact of the fund's distributions.
The fund's only real mandate is that it will primarily target investment-grade bonds. Outside of that, it can look just about anywhere for opportunities, and can invest in bonds of any maturity or duration. The fund uses several tax management strategies when filling out the portfolio, including investing in federally tax-free municipal bonds, investing in taxable bonds where the after-tax valuation is favorable or attempting to minimize net realized short-term capital gains distributions. It's expected that the fund will remain at least 50% invested in tax-free bonds because that is the minimum threshold that must be met to qualify to make distributions of 'exempt-interest dividends' to shareholders.
Currently, the fund has approximately 55% of assets invested in munis, 10% in government bonds, 5% in corporate bonds and the remainder in cash. HTAB becomes Hartford's fifth actively-managed bond ETF and its 13th ETF overall.
For more ETF news and analysis, subscribe to our free newsletter.
Principal Takes a Hands-On Approach to Corporate Bonds
The Principal Financial Group adds a 13th fund to its ETF lineup this week with the launch of the Principal Investment Grade Corporate Active ETF (IG B). It will be the first Principal fund to focus on the fixed income space.
This fund, under normal circumstances, will invest primarily in investment-grade corporate bonds. It can invest in securities of all maturities, but anticipates keeping its duration within 10% of its benchmark, the Bloomberg Barclays U.S. Corporate Investment Grade Bond Index, which recently had a duration of 7.5 years. While it's expected that the fund will focus mostly on U.S. bonds, it does have the ability to dabble in foreign securities and other ETFs that invest in corporate bonds.
According to fund literature, the fund's primary management team, consisting of four individuals with nearly two decades of experience each, searches for outperformance from several sources, including credit selection, industry rotation and yield curve positioning. As of April 23, 2018, within the current portfolio, the managers have made the greatest allocations to banking (27% of assets), consumer non-cyclical (17%), energy (12%) and communications (10%).
The Bottom Line
We've seen several actively-managed bond ETFs hit the market over the past several months, and they seem to be getting cheaper and cheaper. Nearly all of these funds launched since December have come with expense ratios under 0.40%. The Tax-Aware Bond ETF is interesting in the sense that it's mostly a muni bond ETF that doesn't restrict itself to just muni bonds. It's a bit of an unusual approach to building a portfolio, but the focus on tax considerations should appeal to investors, especially those in higher tax brackets. Principal has done a good job of building out its ETF roster over the past three years, and finally adding a fixed income-focused product to its lineup feels long overdue.
ETFdb.com has ETF investing guides and other ebooks to help you navigate the investing landscape using ETFs. Sign up to ETF Database Pro to get access to all the PDFs located on our ETF Guides page.