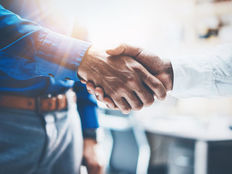 Dorsey Wright has been lending its investment expertise to ETF issuers for over a decade.
The advisor has partnered with ETF companies, such as Invesco, ALPS, State Street and Arrow Funds. This week, AdvisorShares joins with Dorsey Wright for a second time to bring a pair of new funds to the market.
Here are this week's new fund launches:
---
Content continues below advertisement
AdvisorShares Leverages Dorsey Wright's Relative Strength Strategies
AdvisorShares originally worked with Dorsey Wright back in 2010 for the launch of the AdvisorShares Dorsey Wright ADR ETF (AADR C+), an actively managed fund that uses Dorsey's focus on relative strength characteristics in the overseas equity markets. That proved to be a successful venture, as AADR now manages more than $250 million and has earned a 5-star rating from Morningstar. AdvisorShares and Dorsey Wright are hoping for similar success with their latest partnership.
Dorsey Wright specializes in relative strength, or momentum, investing. It uses a purely quantitative strategy that focuses entirely on share price movements relative to other securities in the investment universe. It does not use fundamental company analysis in any way. According to the company's website, this methodology "removes any human emotion from the day-to-day decision making."
The first of the two new ETFs is the AdvisorShares Dorsey Wright Micro-cap ETF (DWMC C). It will focus on a universe of companies with market caps of less than $1 billion culled from the bottom half of the Russell 2000 and an additional 1,000 companies with market caps below this threshold that are not included in the Russell 2000 Index. The fund expects to hold around 150 names in total that demonstrate the most favorable relative strength characteristics according to Dorsey Wright's proprietary stock rotation model.
DWMC is debuting in a favorable market environment. The iShares Micro-Cap ETF (IWC B-) is up around 13% on the year compared to a total return of 6% for the S&P 500.
For more ETF news and analysis, subscribe to our free newsletter.
The other debut is the AdvisorShares Dorsey Wright Short ETF (DWSH C+). It's an actively managed fund that looks to take short positions in both large-cap stocks and ETFs in hopes of profiting in down market cycles. It will also utilize Dorsey's relative strength methodology but will target companies that demonstrate high relative weakness within the investment universe. DWSH anticipates holding somewhere between 75 and 100 names using a modified equal-weighting strategy. AdvisorShares suggests that this fund could be used to hedge downside risk as part of a broader long-short strategy.
The Bottom Line
Both of these ETFs debut at intriguing times. Small-caps have rallied strongly in 2018 thanks to attractive valuations, lower exposure to overseas economic concerns and the benefits of corporate tax reform. As trade concerns heat up, investors could continue directing their cash towards smaller companies. The iShares Core S&P Small Cap ETF (IJR A-) has the second greatest inflows since June 1, a fact that could make DWMC potentially more attractive to investors.
Alternative strategies, such as long-short, haven't attracted a lot of interest since investors have done just fine with long only. As the bull market matures and international tensions rise, investors could benefit from strategies that protect and profit from down moves in the market. Dorsey Wright's relative strength system could be well-suited in accomplishing this goal.
ETFdb.com has ETF investing guides and other ebooks to help you navigate the investing landscape using ETFs. Sign up to ETF Database Pro to get access to all the PDFs located on our ETF Guides page.