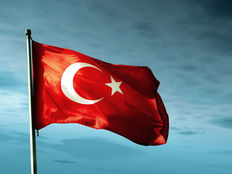 It's amazing how fast things can turn in the markets.
Just as we were getting used to a rising global economy, better earnings and the potential continuation of growing stock prices, we've been hit with a potentially serious threat overseas. And unlike previous threats, the situation in Turkey could have plenty of contagion potential and sink the rising global economy.
And the recent price action this week and last shows the potential severity of the crisis. Volatility is back with a vengeance.
For investors, the issues in Turkey and the emerging world shouldn't be ignored. Their potential to affect portfolios could be a real headache for the longest bull run in history. The time to get defensive could be right around the corner.
Explore Turkey ETFs here.