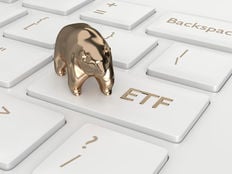 With the market starting to dip and swing wildly, investors are once again faced with the need for a good hedge. That is, a way to protect their portfolios from the market's swoons. And there's certainly a lot of effective ways to do just that. And thanks to the ETF boom, regular investors have plenty of access to them. From gold ETFs to liquid alternatives, the choices for finding portfolio protection are vast. But the simple answer could lie in an old traditional favorite.
We're talking about bond ETFs.
While rising rates have thrown a bit of a wrench in the machine, the relationship between bonds and stocks is still an inverse one. And for investors looking for a hedge against a drifting stock market, bond ETFs still provide plenty of protection. We just may need to tweak which funds we're buying.
For more ETF news and analysis, subscribe to our free newsletter.