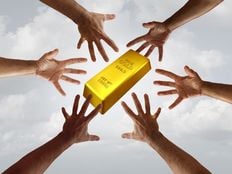 Gold is kind of a funny asset class. It doesn't function much like anything else. Because of its different correlations to stocks and bonds, it has long been a good diversifier for a portfolio. It truly zigs when the other asset classes zag. And lately, we've been seeing the benefits of holding the shiny metal in a portfolio. Gold prices and the ETFs that track them have been surging in recent weeks.
With rising market volatility and various issues coming to light, gold buying has become a top draw for investors. The best part for gold bugs is that the trends seem to be in place for a continued surge.
For investors, with these trends in place, the time could be now to snag some of the various gold ETFs for diversification and capital gains potential over the next year or so.
To find out more about ETFs exposed to particular countries, check out our ETF Country Exposure tool. Select a particular country from a world map and get a list of all ETFs tracking your pick.