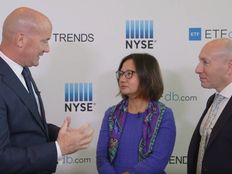 ETF strategies that focus on elite dividend-paying companies can be a good way to enhance a portfolio and reduce one's risk exposure.
"These are the securities that have consistently paid well, increased the dividend for the last 25 consecutive years," Aye Soe, Managing Director, Global Research & Design, S&P Dow Jones Indices, said at Inside ETFs. "That's a very long time when you think about that, and that means that they are a special bunch with very solid balance sheets."
For example, the ProShares S&P 500 Aristocrats ETF (NOBL A-), which tracks the S&P 500 Dividend Aristocrats Index, targets the cream of the crop, only selecting components that have increased their dividends for at least 25 consecutive years. Consequently, investors are left with a portfolio of high-quality, sustainable dividend payers as opposed to more high-yield focused funds that may contain companies on more precarious financial positions.
"In general, S&P 500 dividend aristocrats not only do they outperform the S&P 500, but they do that with lower volatility," Soe added.
---
Content continues below advertisement
These types of long-term, dividend growers have also resonated with financial advisors and investors.
"Part of it is just the ease of explaining it to clients. There's nothing easier to say than, 'Hey, this is an ETF filled with companies that consistently grown their dividends.' and – especially, for folks who maybe are coming from using active mutual funds and active management in the past – this is a great place to go because you're not saying that there's no opportunity to outperform the market, but what we're saying is a good rules-based and systematic approach like following and investing in companies that have consistently grown their dividends is simply a better way to identify outperforming companies," Simeon Hyman, Head of Investment Strategy, ProShares, said.
ProShares also offers the ProShares Russell 2000 Dividend Growers ETF (SMDV ) and the ProShares S&P MidCap 400 Dividend Aristocrats ETF (REGL A) for those seeking quality dividend growers in the small- and mid-cap categories, respectively. REGL tracks a Dividend Aristocrats Index. The mid-cap Dividend Aristocrats Index, though, only requires 15 consecutive years of increased dividends for inclusion. SMDV, a dividend spin on the Russell 2000, the benchmark U.S. small-cap index, tracks the Russell 2000 Dividend Growth Index, which includes small-cap firms with dividend increase streaks of at least a decade.
Investors can also diversify into international markets while tracking similar dividend growth strategies. For instance, the ProShares MSCI EAFE Dividend Growers ETF (EFAD B) tracks developed market Europe, Australasia and Far East companies that exhibit a minimum dividend increase streak of 10 years.
The ProShares MSCI Europe Dividend Growers ETF (EUDV B-) tracks the performance of the MSCI Europe Dividend Masters Index, which consists of at least 25 European companies that have consistently increased their dividends for at least 10 consecutive years. The ProShares MSCI Emerging Markets Dividend Growers ETF (EMDV C+) follows the MSCI Emerging Markets Dividend Masters Index, which targets MSCI Emerging Market components that have increased dividend payments each year for at least seven consecutive years.
For more ETF-related commentary from Tom Lydon and other industry experts, visit our video category on ETFtrends.com.