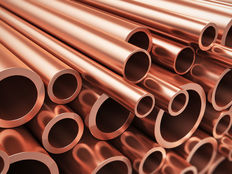 When comes to the metals these days, those that fall into the "precious" camp are getting all the attention. Investors have flocked to gold, silver and even pallidum as volatility has taken hold of the market. And there's nothing wrong with that. But what they may want to do is take a look at another red-hot metal.
We're talking about copper.
After getting hit during last year's market swoon, copper is setting itself up for a nice rebound. Several bullish tailwinds are set to propel prices for metal higher in the upcoming year or so. And yet, the metal seems like a bargain when compared to its precious sisters. For investors, taking copper ETFs for a spin makes a ton of sense.
The Set-Up For Dr. Copper
Historically, copper has been a leading indicator for world's economy. Thanks to its many industrial uses, demand- or lack thereof- for the red metal often signals what will happen to global economic growth. The indicator has been very accurate and analysts often refer to the metal as "Dr. Copper" due to its predictive powers.
So, when the global economy started to wobble over the Autumn, naturally, copper prices and ETFs took it on the chin in a big way. Investors saw dropping industrial production in key markets like China and U.S., and they ran for the hills. Prices for copper sank about 10.14% from the end of summer to the start of 2019 as investors began to worry about the state of the global economy. With that, copper prices have spent the last two or so, just scraping by.
But all of that may change soon enough. Copper is quickly becoming a classic supply/demand imbalance problem- with uses far outstripping supplies.
For starters, while China's economy has slipped, analysts are now predicting that the key emerging market nation is leveling off. Moreover, Beijing has continued to announce a series of stimulus measures to continue stimulating the economy- that includes plenty of large-scale building projects. Perhaps the biggest reason to be bullish on China is that the trade war may be ending sooner than later. Key officials from both China and U.S. have increased the frequency of talks and nations seem poised to strike a deal. That would instantly reignite trade and growth once more.
Meanwhile, another source of demand is starting to make itself known- the electrification of the economy. Copper is known for is conductivity and it finds it way into all sorts of electrical devices. With our growing use of the cloud, data center demand is just gobbling up copper for wires and other components. And while fiber use is increasing, copper still runs the show.
At the same time, renewable energy and electric vehicles are now becoming the standard for many nations and citizens. Again, copper is main ingredient in these applications. You need miles of copper wires to transmit energy from solar panels to where its needed to charge an E.V.
With these added boosts to copper's normal demand, the pressures are beginning to build. Analysts at U.S. Global Investors peg demand to hit over 30 million tons by the time the calendar rolls over to 2027. That's up from 23.6 million tons recorded in 2018.
Use our Head-to-Head Comparison tool to compare two ETFs such as (COPX) and (XME ) on a variety of criteria such as performance, AUM, trading volume and expenses.
---
Content continues below advertisement
Where Is It Coming From?
The looming problem is can be seen in this chart from U.S. Global. What you should be focusing on is those blue bars pointing down. What that is, is the continued deficit in the amount of copper available to end-users. As you can see, its poised to keep growing over the next few years.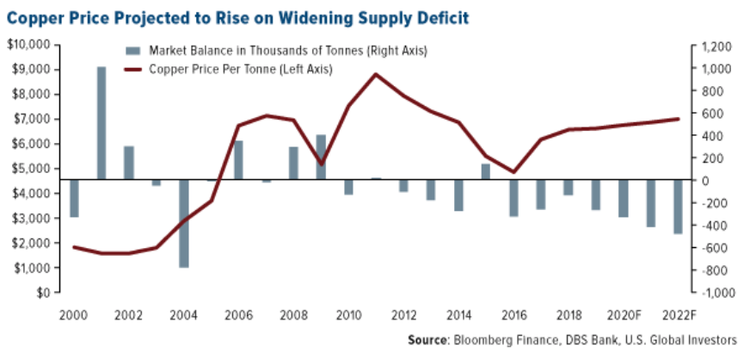 Supplies for copper continue to dwindle as the time it takes to bring a new min online is a very very very long process. Copper mines are often large, open pit facilities and face plenty of backlash from many groups. As a result, several of the major recent copper projects are still in the planning stages. As a result, supplies continued to be crimped. Fitch estimates that supplies with be crimped by roughly 257,000 tons this year and continue to grow. And after 2020, there will be no more wiggle room for copper in storage.
That's already happening today. Copper inventories held in London Metal Exchange warehouses currently are at 120,000 metric tons. That's down from around 300,000 tons just a year ago.
Buying Copper ETFs
With rising demand and shortage of the metal, analysts now predict that copper prices could rise as much as 14% over the course of 2019 and into the new year. For investors, that's an interesting opportunity that can be exploited with ETFs.
To bet directly on copper prices, there are really only two choices- The iPath Series B Bloomberg Copper Subindex Total Return ETN (JJC https://etfdb.com/etf/JJC/ ) and the United States Copper Index Fund (CPER A-). The question comes down to whether or not, you'd rather have credit risk (JJC is an ETN) or dealing with a K-1 statement come tax time. Quite frankly, given the low assets, trading volumes and high expenses for the two ETFs, neither may be very appealing.
Which is why, investors may want to go with Global X Copper Miners ETF (COPX B+). COPX bets on the miners of the metal- who directly benefit when prices rise. Thanks to their fixed costs, there's a sort of leveraged effect when copper prices increase. Moreover, COPX features decent AUM and trading volumes. More cautious investors could use something like the massive SPDR S&P Metals & Mining ETF (XME A-) as it does include many copper miners. But it's not a 100% play on the metal. COPX is really the only way to gain pure access.
The Bottom Line
In the end, copper prices have plenty of potential behind them. Rising demand faced with dwindling supplies is the ultimate squeeze action play. For investors, play the red metal could result in red-hot gains over the next few years.
For more ETF news and analysis, subscribe to our free newsletter.