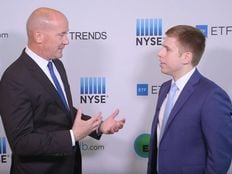 Many people believe in the principles that environmental, social and governance factors encompass, but exchange traded fund investors are not as quick to bite on the investment themes. However, the industry is trying to do more to educate investors on the benefits of ESG-related investments.
"Seventy-seven percent of advisors said they believe ESG factors matters for companies, but at the same time, only forty percent said they believe in ESG investing," Richard Cea, Head of InsightShares by UBS, said at Inside ETFs.
"I think it's hard for advisors to have a conversation around the history with their clients because they don't know enough about it yet. So, it's about education at the end of the day. ESG investing is about finding factors that don't show up on the balance sheet that matter for a company's valuation," Cea added.
For example, the InsightShares LGBT Employment Equality ETF (PRID B-) is among a new breed of socially responsible investments. Specifically, PRID includes large- and mid-capitalization U.S. stocks of companies with workplaces that promote and provide equality for lesbian, gay, bisexual and transgender, or LGBT, employees based on their score in the Human Rights Campaign Foundation's Corporate Equality Index.
Component companies included in the index will be rated on how the company's policies address non-discrimination against employees based on sexual orientation or gender identity; the extent to which the company provides equitable benefits to LGBT workers and their families; the measures the company takes to provide internal education and maintain accountability metrics to promote LGBT inclusion competency; and whether a company has made a public commitment to the LGBT community.
UBS also offers another cause-focused product, the InsightShares Patriotic Employers ETF (HONR B-), which is comprised of large- and mid-capitalization U.S. stocks of companies with policies and practices determined to be Military Friendly. HONR allows investors to do good and do well at the same time by supporting veterans who have sacrificed so much for our freedom and investing in a product that offers attractive potential returns.
As a way to better filter and screen for companies that have a great job in adequately incorporating veteran skills into their business, VIQTORY has developed the so-called Military Friendly Ratings, which is backed by more than 16 years of data that identified companies who are doing the best job of providing opportunities to our country's veterans.
Watch the full interview between ETF Trends CEO Tom Lydon and Richard Cea
---
Content continues below advertisement
For more ETF-related commentary from Tom Lydon and other industry experts, visit our video category on our sister site, ETF Trends.