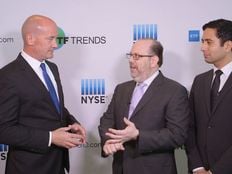 As investors push deeper into a prolonged bull market with short-term risks popping up, many are turning to smart beta ETF strategies that may help smooth out the ride.
"I think advisors need to worry about the choppiness of the markets," Ed Rosenberg, Senior Vice President, Head of ETFs, American Century Investments, said at Inside ETFs 2019, pointing to the Federal Reserve and China trade deal as top concerns that could contribute to future volatility and uncertainty.
"I think you'll see choppiness the first half of the year, and as we get a better, clearer picture of what's going to happen, I think you'll see us smooth out in the second half of the year," he added.
As a way to better navigate these choppy waters, American Century offers a suite of smart beta or factor-based index ETF space with strategies including the American Century Quality Diversified International ETF (QINT B+), American Century STOXX U.S. Quality Growth ETF (QGRO B-) and American Century STOXX U.S. Quality Value ETF (VALQ B).
The smart beta ETFs utilize American Century Investments' Intelligent Beta methodology, which systematizes many of the same attributes that fundamental research and security selection seek to identify, in a rules-based, indexed approach.
"I think that portfolio construction is going to become a very, very key component to managing assets, especially this year," Rene Casis, ETF Portfolio Manager, American Century Investments, said.
"Having components that can best respond to these changes, you know, these very quick changes in the economic environment is going to be very crucial," he added.
QINT is a foreign large blend fund that seeks to enhance core international exposure. Its rules-based approach analyzes each stock's quality, growth and value characteristics to select individual securities. It also dynamically adjusts exposures in an effort to take advantage of prevailing market conditions.
QGRO is a large-cap growth fund that seeks to enhance the core growth component of investor portfolios. The fund features a rules-based approach to identify stocks that feature a combination of quality and growth. The methodology distinguishes between stable growth and pure growth companies, dynamically allocating to each category and adjusting sector exposures, depending on the market environment.
VALQ tries to reflect the performance of the iSTOXX American Century USA Quality Value Index, which is made up of 900 largest publicly traded U.S. equity securities screened and weighted by fundamental measures of quality, value and income.
Watch the full interview between Tom Lydon and Ed Rosenberg & Rene Casis:
---
Content continues below advertisement
For more ETF-related commentary from Tom Lydon and other industry experts, visit our video category on ETF Trends.