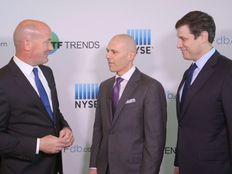 In the late stages of the economic cycle, many believe U.S. markets will witness slower growth. Nevertheless, ETF investors can look to international markets to potentially gain exposure to more attractive opportunities.
"Lowering growth expectations," Gene Podkaminer, SVP, Head of Multi-Asset Research Strategies, Franklin Templeton, said at Inside ETFs 2019. "The U.S. has been on a tear, so a little bit less growth, less growth, less oomph here but some pick up elsewhere. As investors look across markets and across geographies, you always have choices, so you choose."
For example, many have been looking into the battered and relatively cheap emerging economies as a way to diversify and to enhance returns.
"There's tremendous opportunity in emerging markets right now," Pierre Caramazza, Head of Financial Institutions Group – U.S., Head of ETF Distribution, Franklin Templeton, said. "I think the big thing, the big change is a lot of advisors aren't just chasing EM. They want to do EM in the controlled, smarter fashion. They want to do it in a risk-adjusted fashion. We think there's an opportunity set for that."
As a way to take a smarter approach to international investments, Franklin Templeton offers a suite of smart beta ETF strategies that specifically screen for targeted market factors to diminish downside risk and maintain upside potential. The ETF suite includes strategies like the Franklin LibertyQ International Equity Hedged ETF (FLQH B+), Franklin LibertyQ Emerging Markets ETF (FLQE B+), Franklin LibertyQ Global Dividend ETF (FLQD B+) and Franklin LibertyQ Global Equity ETF (FLQG A). The smart beta ETFs provide exposure to a multi-factor approach that covers widely observed factors such as quality, value, momentum and low volatility.
The quality factor incorporates measures like return on equity, earnings, variability, cash return on assets and leverage. The value factor incorporates measures such as price-to-earnings, price-to-forward earnings, price-to-book value and dividend yield. The momentum factor covers measures such as 6-month risk-adjusted price momentum and 12-month risk-adjusted price momentum. Lastly, the low volatility factors include measures like historical beta, a measure of the volatility of a security relative to the total market.
Watch the full interview between ETF Trends CEO Tom Lydon, Gene Podkaminer and Pierre Caramazza
---
Content continues below advertisement
For more ETF-related commentary from Tom Lydon and other industry experts, visit our video category on ETF Trends