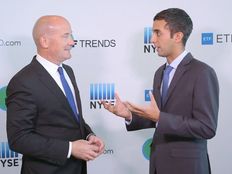 Active money managers are embracing the exchange traded fund wrapper, despite concerns that their actively managed investment styles may be revealed under the full transparency of the investment vehicle, as the growth opportunity of the ETF industry is too big to ignore.
"It was about bringing our alpha generating capabilities to the ETF wrapper. That way we can meet our existing clients and new clients where those clients want," Keshav Rajagopalan, Co-Head of ETFs, PGIM, said at Inside ETFs 2019.
"We had to get comfortable with the transparency because we are now disclosing our holdings daily on these different vehicles, but for us, we know what that's where the marketplace is going. Investors want transparency. They want to be able to look under the hood and see what's happening on a daily basis and because of that, we knew that we needed to embrace that movement and be part of it too," he added.
At PGIM Investments, their first ETF, the PGIM Ultra Short Bond ETF (PULS A), helped meet the increased demand for ultra-short-duration debt exposure to help fixed-income investors gather a decent yields with minimal risk. PULS's risk-managed and short duration approach is designed to help investors hedge against rising rates and enhance or diversify a cash management strategy.
PGIM Investments also offers the PGIM Active High Yield Bond ETF (PHYL B) to help more risk-tolerant investors whom are seeking higher yields. PHYL tries to generate high income and capital appreciation through its portfolio of speculative-grade or junk rated bonds.
On the equity side, Prudential more recently launched the actively managed PGIM QMA Strategic Alpha Small-Cap Growth ETF (PQSG C+), the PGIM QMA Strategic Alpha Small-Cap Value ETF (PQSV A), PGIM QMA Strategic Alpha International Equity ETF (PQIN A-) and PGIM QMA Strategic Alpha Large-Cap Core ETF (PQLC B+).
QMA employs a proprietary multi-factor quantitatively driven investment process for the Funds. The stock selection process utilizes systematic tools that evaluate stocks based on various signals, such as value, quality and volatility, to differentiate between attractive and unattractive stocks, subject to risk constraints. QMA seeks to avoid high premium stocks likely to underperform. The investment management team exercises judgment when evaluating underlying data and positions recommended by its quantitative tools.
"QMA, the Fund's subadvisor, believes that investors are willing to overpay for stocks that have a low probability of outsized returns or may provide lower risk. QMA's active, bottom-up approach is designed to avoid these stocks with a multi-factor strategy that links value, quality, and volatility. The result: differentiated multi-factor portfolios, which provide broad exposure to an index while capitalizing on investor bias," according to PGIM Investments.
Watch the full interview between Tom Lydon and Keshav Rajagopalan
---
Content continues below advertisement