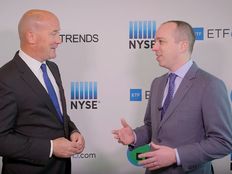 As investors grow accustomed to the exchange traded fund investment vehicle, many are now looking into more focused or thematic strategies to hone in on potential opportunities in specific segments of the market.
"There are over 68 different thematic ETFs that we classify across the U.S. list of ETF industry," Matthew Bartolini, Head of SPDR Americas Research, State Street Global Advisors, said at Inside ETFs 2019.
"We developed a suite of sector based strategies that target the specific innovations as well as a broad composite that targets everything," he added.
Specifically, the SPDR Kensho Intelligent Structures ETF (XKII C+), SPDR Kensho Smart Mobility ETF (XKST B) and SPDR Kensho Future Security ETF (XKFS B) can help investors focus on the potential growth opportunity in next-generation technologies.
The Kensho Intelligent Structures ETF follows companies whose products and services are driving innovation behind intelligent infrastructure, such as smart building infrastructure, smart power grids, intelligent transportation infrastructure, and intelligent water infrastructure.
The Kensho Smart Mobility ETF includes companies whose products and services are engaged in smart transportation, which includes the areas of autonomous and connected vehicle technology, drones and drone technologies used for commercial and civilian applications, and advanced transportation tracking and transport optimization systems.
The Kensho Future Security ETF tracks companies involved with innovation behind future security, which includes the areas of cyber security and advanced border security, along with military applications like robotics, drones and drone technologies, space technology, wearable technologies and virtual or augmented reality activities.
Additionally, the broader SPDR Kensho New Economies Composite ETF (KOMP A-), which includes "New Economy" industries, ranging from 3D printing to genetic engineering, can provide investors access to a comprehensive and diversified set of companies propelling the new economy.
Watch the full interview between ETF Trends CEO Tom Lydon and Matthew Bartolini
---
Content continues below advertisement
For more ETF-related commentary from Tom Lydon and other industry experts, visit our video category on ETF Trends.