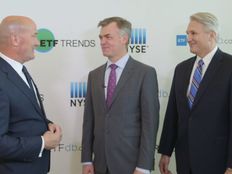 Northern Trust's FlexShares have conducted an annual survey to gain insights into advisor wellness and have found that stress and satisfaction remain defining factors in their businesses.
At Inside ETFs 2019, FlexShares head of marketing David Partain highlighted the ongoing struggles with stress that many financial advisors have to deal with.
"We still saw stress this year. However, when we ran the survey in November, you can imagine the volatility caused," Partain said.
FlexShares Exchange Traded Funds' second annual financial advisor wellness survey found that many custodians of wealth are 23% more stressed than the national average, but the numbers are down only slightly from last year's 25%.
Nevertheless, the majority remain overwhelmingly satisfied with their career choice. Advisors revealed a 79% job satisfaction overall, with advisors who manage over $250 million in assets reporting 12% higher satisfaction than their peers with fewer assets under management.
While managing wealth may be a stressful job, advice on helping Americans reach comfortable retirement goals remains in high demand, especially in an increasingly difficult market environment.
"There's going to continue to be strong demand for financial advice and that's what we've learned – and even across generations. That's what Northern Trust has found and that's what all of our clients in the advisor community have found as well," Brian O'Donnell, Senior Vice President, Northern Trust Asset Management, said.
Watch the full interview between ETF Trends CEO Tom Lydon and David Partain & Brian O'Donnell
---
Content continues below advertisement
For more ETF-related commentary from Tom Lydon and other industry experts, visit our video category on ETF Trends.