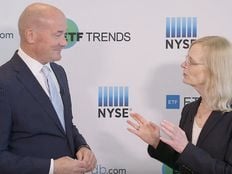 As the exchange traded fund investment vehicle grows in popularity, with trillions of dollars invested in the nifty tool, advisors can look to fund flows to better understand investors' mindset and demand for the various market segments.
"The end of January marked 60 months of consecutive net inflows into ETFs – that's five years. Most people don't know that, right? So, I think we're seeing that there's more institutions – nearly 5,000 institutions now – using ETFs around the world, and so what you find is when anyone tries and starts to use ETFs, the number of ETFs they use, the amount they use and how they use them grows. So, we're seeing that the adoption is growing across institutions, financial advisors and then retail, so it's the only democratic product, and that message is getting out there," Deborah Fuhr, Managing Partner and Founder of ETFGI, said at Inside ETFs 2019.
According to ETF Database data, there are currently around 2,278 exchange traded products, which includes both ETFs and exchange traded notes, listed in the U.S., with $3.8 trillion in assets under management.
Advisors are seeing an increase in usage as more investors look to the low-cost, transparent nature, ease of use and efficiency found in the ETF investment wrapper.
Due to their mostly index-based investment methodology, the majority of ETFs offer some of the cheapest costs in the fund industry. Furthermore, many fund sponsors are now engaging in an internecine fee war that has helped push down costs to the benefit of the end investor. Meanwhile, the fund flows have shown that low-cost funds are in more demand as more investors shift away from underperforming and costly active strategies into low-cost, index-based funds.
Watch the full interview between ETF Trends CEO Tom Lydon and Deborah Fuhr
---
Content continues below advertisement