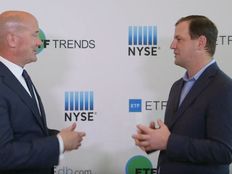 As investors grow accustomed to the exchange traded fund investment vehicle, many are looking for more out their investments, turning to smart beta or factor-based strategies that seek to potentially enhance returns and limit downside risks.
"The active managers of the past, you know, the traditional active managers – they're really losing out to a lot of this indexing a lot of this can be done with a rules-based approach, and that's what people want. They don't just want beta. They don't just want the S&P 500. They want outperformance, and the best way to do that is to invest in the right factors that are driving performance," Eric Ervin, CEO of Reality Shares, said at Inside ETFs 2019.
For example, Reality Shares has come out with the multi-factor fundamental ETF, Reality Shares Fundstrat DQM Long ETF (DQML C), to provide a better way to access large-cap U.S. stocks.
The Reality Shares Fundstrat DQM Long ETF tries to reflect the performance of Fundstrat Doctor Quant Model US Large Cap Equal Weighted Long Index, which was developed by Fundstrat Global Advisors using an advanced multi-factor stock-rating system to choose the top 100 stocks from the 500 largest US stocks by market cap. The indexing methodology would rank an aggregate score to each stock across eight key fundamental and valuation/market-based factor groups that drive equity prices.
Unlike other fixed weight multi-factor models, DQML's benchmark dynamically optimizes the weights of each group attributing different weights to companies by sector. The Index is then comprised of the highest-scoring 100 large-cap stocks.
The multi-factor aspect to the indexing methodology identifies factors such as value, cash flow, size or momentum, which may reward investors by optimizing long-term, risk-adjusted portfolio performance. Overall, the strategy combines over 40 factors, grouped into 8 factor groups spanning fundamental, valuation and sentiment metrics.
Watch the full interview between ETF Trends CEO Tom Lydon and Eric Ervin:
---
Content continues below advertisement