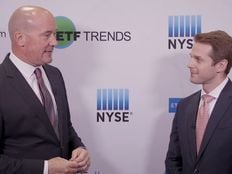 There is still demand for income generation, and fixed-income investors are increasingly turning to bond exchange traded funds to meet their needs.
"At Nuveen, we see a need for income," Jordan Farris, Managing Director, Head of ETF Product Development, Nuveen, said at the Morningstar Investment Conference.
"We're finally seeing the full acceptance of fixed-income ETF as advisors being able to start with the core fixed-income allocations and then being able to tilt around that for their clients," Farris added.
Upcoming Webcast: How to Better Understand ESG Investing for Your Clients
However, in a changing market environment, fixed-income ETF investors will need to take a harder look at their portfolios as core fixed-income positions, particularly those benchmarked to the Bloomberg Barclays U.S. Aggregate Bond Index, are now exposed to greater rate risks with lower yields to justify the risks.
Alternatively, fixed-income investors can look to smart beta ETF strategies for a smarter way to access the bond market. Specifically, investors may consider something like the NuShares Enhanced Yield U.S. Aggregate Bond ETF (NUAG B).
The Enhanced Index does not weight components by market capitalization, instead opting to assign components into a variety of categories based upon asset class, sector, credit quality and maturity. The smart beta indexing methodology then utilizes a rules-based process to include higher weights to categories with higher yields while maintaining risk and credit quality at levels similar to the Base Index.
NUAG seeks to offer enhanced yield relative to the broad, investment-grade fixed income market with comparable risk and credit quality by reflecting the BofA Merrill Lynch Enhanced Yield US Broad Bond Index (Enhanced Index), which is designed to broadly capture the U.S investment grade fixed income market.
Rather than weighting by capitalization, the Enhanced Index assigns component securities into a variety of categories based upon asset class, sector, credit quality, and maturity, and then uses a rules-based methodology to allocate higher weights to categories with the potential for higher yields without significantly increasing risk or decreasing credit quality.
Watch the full interview between ETF Trends CEO Tom Lydon and Jordan Farris:
---
Content continues below advertisement
For more ETF-related commentary from Tom Lydon and other industry experts, visit our video category on ETF Trends.