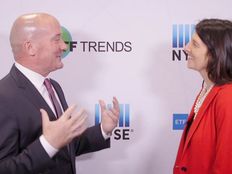 Money managers are tapping into their decades of experience as they adapt time-tested strategies into the efficient exchange traded fund investment vehicle.
"If you look at the way we've built out the lineup – equities, fixed income, alternatives – all of those capabilities are built off of existing investment engines at J.P. Morgan. So leveraging that deep expertise that we have and bringing it to the ETF industry via the ETF wrapper," Jillian DelSignore, Executive Director, Head of ETF Distribution, J.P. Morgan Asset Management, said at the Morningstar Investment Conference.
For example, DelSignore highlighted the JPMorgan Diversified Return International Equity ETF (JPIN A-) as a strategy that leverages J.P. Morgan's experience in quantitative research and portfolio management, employing a team approach led by Dr. Yazann Romahi, CIO of Quantitative Beta Strategies.
The ETF tracks the JP Morgan Diversified Factor International Equity Index, which utilizes a rules-based approach combining risk-weighted portfolio construction with multi-factor security screening based on value, quality and momentum factors. Specifically, it may incorporate multi-factor screens for value based on as dividend yield and book-to-price; momentum based on return-on-equity; and quality based on total return divided by the standard deviation of daily local returns over one year.
On the fixed-income side, investors may look to something like the actively managed JPMorgan Ultra-Short Income ETF (JPST A) as a popular way to access the short-end of the yield curve. The ultra-short duration bond strategy leverages the expertise of J.P. Morgan's Global Liquidity business. In a rising interest rate environment, investors are looking for a safe way to park their cash and reduce risk exposures, and with something like JPST, investors can utilize an innovative solution to build stronger portfolios.
JPST tries to provide current income while seeking to maintain a low volatility of principal by investing in investment-grade, U.S.-dollar-denominated short-term fixed, variable and floating rate debt. The fund can include corporate securities, asset-backed securities, mortgage-backed and mortgage-related securities, and high quality money market instruments such as commercial paper and certificates of deposit.
Lastly, alternative strategies like the JPMorgan Diversified Alternatives ETF (JPHF ) combines various hedge fund-esque, alternative investment strategies in an easy-to-use ETF wrapper. Specifically, JPHF will include equity long/short, event driven and global macro based strategies.
The managing advisors of JPHF will try to generate positive total returns over time while including a relatively low correlation to traditional markets, which helps smooth out a portfolio if the markets experience any unexpected turns ahead. These types of alternative strategies help investors diminish downside risk and still capture upside potential to generate improved risk-adjusted returns over time.
Watch the full interview between ETF Trends CEO Tom Lydon and Jillian DelSignore:
---
Content continues below advertisement
For more ETF-related commentary from Tom Lydon and other industry experts, visit our video category on ETF Trends.