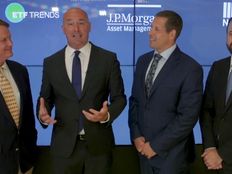 The investment landscape is evolving rapidly. Each quarter, ETF Trends, J.P. Morgan Asset Management and the NYSE have partnered to bring you the current thinking on ETFs with the In the Know quarterly series.
In this latest quarterly instalment filmed on the floor of the New York Stock Exchange, ETF Trends CEO Tom Lydon chats with industry experts on late-cycle investment opportunities and risks during the recent volatility in the markets.
Lydon is joined by Doug Yones, head of exchange traded products at NYSE; Sam Stovall, Chief Investment Strategist at CFRA Research; and Josh Rogers, Beta Specialist at J.P. Morgan Asset Management.
The discussions focus on markets, ETF strategies, and positioning with client portfolios.
Season Experts Talk Trends
---
Content continues below advertisement
With Lydon speaking to Yones, the discussion turns to top trends in year-to-date ETF flows. Yones details how it comes down to the narrative shift for ETFs. ETFs have become more popular, which has led to people taking on these funds as more than just side investments. There's also talk of how ETFs can help in adding to liquidity, and addresses concerns regarding fixed income.
With Stovall, Lydon hears how to stay up to date on the markets, and the benefits of ETF investing. The critical factor here is being in a late-cycle. As Stovall points out, this has been the second most advanced market in history, in terms of price performance, and the second-highest in terms of valuations. Going off of that, Stovall can note the sectors investors need to consider at this time.
Rogers is given a chance to talk about how investors need to handle their portfolios. With Lydon asking about what clients need to do to build a great portfolio, Rogers can steer advice towards technology, as far as the strongest sectors. He's also able to discuss the role international markets have played in fixed income. This is another critical part of knowing how to shift a portfolio to deal with market volatility properly.
Each of these segments expands on all of these topics, with Lydon and his market experts providing the useful knowledge that will have you in the know.
Watch the full In the Know segment today!