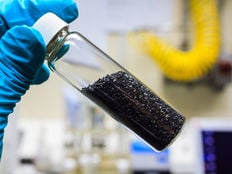 Today marks Barclays Bank's launch of the iPath Series B Carbon ETNs (GRN). These exchange-traded notes will track the performance of Barclays Global Carbon II TR USD Index (BXIIGC2T).
GRN began trading today on the NYSE Arca with an expense ratio of 0.75%, and be redeemable at the sole discretion of Barclays on any trading day on or after their inception up until maturity.
Holders of the existing iPath Global Carbon ETN (GRNTF) ("Existing ETNs") will be allowed to put Existing ETNs to Barclays with no minimum redemption size while being able to purchase new GRN simultaneously.
In this instance, upon redemption of Existing ETNs, the holder shall receive many new ETNs equal to the aggregate daily redemption value of the redeemed ETNs, rounded to the nearest full new ETN, with a residual cash payment for any partial remaining Existing ETNs.
The prospectus provides more information concerning GRN. Note how, by design, the GRN will give exposure to the BXIIGC2T index, as ETNs are riskier than ordinary unsecured debt securities, and have no principal protection.
Any payment to be made on the ETNs depends on the ability of Barclays to satisfy its obligations as they are due. Investment in the ETNs involves significant risks, including possible loss of principal, and may not be suitable for all investors.
Barclays Bank PLC is the issuer of iPath® ETNs, and Barclays Capital Inc. is the issuer's agent in the distribution.
Looking Into The Index
From an objective standpoint for the BXIIGC2T Index, the idea is to provide exposure to the price of carbon as measured by the return of futures contracts on carbon emissions credits from two of the world's primary emissions-related mechanisms. The mechanisms currently included in the Index are the European Union Emission Trading Scheme (EU ETS), and the Kyoto Protocol's Clean Development Mechanism (CDM).
The components of the Index currently included are futures contracts that trade on the ICE Futures Europe exchange. The allocations of the Index to the Index components are adjusted annually. Accordingly, the Index is heavily weighted toward futures contracts on carbon emission credits in the EU.
While the Index components are denominated in euros, the Index is calculated in US dollars. The performance of the Index for any period reflects the weighted performance of the Index components during that period, as adjusted by the performance of the euro/U.S. dollar exchange rate during that time.
This article originally appeared on ETF Trends.
---
Content continues below advertisement