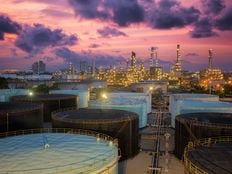 U.S. markets and stock ETFs retreated on a spike in risk-off sentiment, following the weekend attack on Saudi Arabia's oil facilities that sent crude price surging, but strength in the energy sector helped offset some of the broader selling.
On Monday, the SPDR Dow Jones Industrial Average ETF (DIA B+) fell 0.5% while SPDR S&P 500 ETF (SPY A) was 0.4% lower.
The energy sector, on the other hand, was the lone gainer on Monday, rising 3.8% as West Texas Intermediate crude oil prices jumped over 14% to $63 per barrel.
Oil ETFs like the Invesco DB Oil Fund (DBO A) was up 9.75% as of 2:05 pm ET Monday.
The risk-off selling and spike in oil prices came after attacks on Saudi oil production facilities Saturday halted 5.7 million barrels of daily production from the Kingdom, the Wall Street Journal reports. Saudi Arabia is working on restoring about one-third of the disrupted production by the end of Monday.
Crude oil prices surge
Crude oil prices surged amid uncertainty over how severely Saudi facilities had been hit. Norbert Rucker, head of commodities research at Swiss bank Julius Baer, noted that damage to processing plants would be a relatively easier fix, compared to a direct strike on oil fields, which would impeded production significantly.
"The market reaction right now really points to a benign scenario," Rucker told the WSJ.
Furthermore, Kerry Craig, a global market strategist at J.P. Morgan Asset Management, argued that oil producers could tap into stockpiles to stabilize prices. For example, President Donald Trump said he authorized the release of oil if needed from the the Strategic Petroleum Reserve to offset price increases.
Related: Oil Makes Biggest One Day Move On Drone Attacks
Investors will also be watching out for the Federal Reserve later this week as many are already pricing in a quarter point interest rate cut.
"Central banks are likely to look through the inflationary impacts of higher oil prices but the added geopolitical risk to an already fragile backdrop will not go without notice," Craig told the WSJ.
This article originally appeared on ETFTrends.com
---
Content continues below advertisement