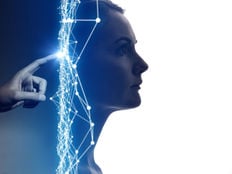 It's no secret anymore that artificial intelligence (AI) is poised for growth as more companies, in all sectors, are adopting the technology in some form or fashion to run their core businesses. A growth spurt in AI-focused startups could boost the *AI-Powered International Equity ETF (AIIQ B-)*.
Under the hood, the fund runs on the EquBot Model: a proprietary algorithm with the use of IBM's Watson. The model analyzes and compares a multitude of data points and international companies on a daily basis to find and optimize portfolio exposures.
AI continues to disrupt the investment management space, prompting many asset managers and investors to rethink the way they invest, research and develop portfolio construction methodologies. EquBot recognized this need for advancement and broke the mold by pioneering a new method combining AI with ETFs.
Highlights of AIIQ:
AIIQ

uses artificial intelligence to analyze and identify developed-market ex-US stocks believed to have the highest probability of capital appreciation over the next 12 months, while exhibiting volatility similar to the overall developed non-US market.
The fund selects 80 to 250 constituents and has no restrictions on the market cap of its included securities.
The model suggests weights based on capital appreciation potential and correlation to other included companies, subject to a cap of 10% per holding.
It is worth noting that while

AIIQ

relies heavily on its quantitative model, the fund is actively managed, and follows no index.
---
Content continues below advertisement
AI Expanding Global Footprint
AI is also starting to have a global reach that spans across all countries. For example, per a report by Romanian online publication Business Review, "Entrepreneurs in the artificial intelligence (AI) field are building startups that aim to disrupt large swathes of the economy, ranging from healthcare to telecommunications, retail, finance and transportation. Some USD 1.9 billion worth of venture capital deals involving AI and machine learning companies had been carried out in Europe by the end of summer, already exceeding the funding raised last year. "
As a more direct understanding of the capabilities of AI grows, tech startups are at the ready to implement the technology in a wide variety of applications that span across all business sectors.
"The Romanian tech startups are in theory quite interested in developing or using AI for their products and applications. However, in many instances there is a bit of confusion, as simpler machine learning processes added to a platform or product cannot qualify the product for the term AI. In terms of expertise, I think like in many other tech ecosystems around the region, expertise is still limited and companies are 'learning by doing'," Marius Ghenea, partner at 3TS Capital, the private equity and venture capital firm, told BR.
This article originally appeared on ETFTrends.com