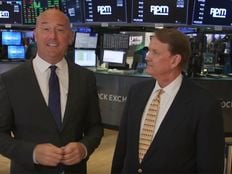 On this latest In the Know, quarterly series, ETF Trends CEO Tom Lydon speaks with Sam Stovall, Chief Investment Strategist with CFRA Research, about where things are with the markets now in it's in the late-cycle.
There have been over 10 years of economic expansion, the longest since 1857, according to Stovall, and it has to come to an end sooner or later. He also notes that it's been the longest bull market since World War II.
Additionally, Stovall points out that it's been the second most advanced market in terms of price performance, let alone the second highest in terms of valuations. This usually doesn't signal a shallow bear market when it eventually does come to pass.
So, as Lydon follows up with a question concerning factors needing to be positioned in a late-cycle market, Stovall responds by explaining how specific sectors like industrials, basic materials, and energy tend to hold up the best, historically. However, it's different this time due to the trade dispute with China.
What Sectors To Consider
The current conflict has put a lot of pressure on these various sectors. Stovall also notes how technology has helped keep inflation remain relatively low, so there's little need for inflation hedges such as energy. "So, right now, it's causing investors to scratch their heads and wonder, 'where should I be positioned?'."
Lydon highlights relatively underpriced areas like value and quality, compared to how they were a few decades back. Stovall agrees, stating how CFRA analyzes 1500 ETFs, and it's clear how outlooks are highly concentrated in the value and quality of earnings, as well as the dividend categories.
"These are areas that have not done that well since Wall Street has started to price in the prospects of a beginning of a new rate easing cycle. But our feeling is their day will come," Stovall remarks.
In addressing what sectors should be positioned best in a late-cycle, Stovall responds with the defensive areas, which are also going underappreciated currently. Areas such as consumer staples, real estate, and utilities, because the demand for these products and services remains static if the economy starts to slow down. And yet, there is a definite underweighting to the more cyclical areas of communication services, consumer discretionary, and technology.
---
Content continues below advertisement
Speaking on the intersection between sectors and the late-cycle, Stovall notes how it's essential to look at these investments and ETFs covering those areas of value, quality, and dividends, which are also focusing on defensive areas of staples, utilities, and real estate, among others. "So, basically just doing your homework, doing the screening, and cherry-picking those buckets that offer the greatest exposure to the good areas."
Finally, Stovall speaks about the multi-factor strategies that are becoming more prevalent in the marketplace. He states how the ETF handles a lot of the stress for an investor, which could be an excellent way of putting on something like autopilot to get around the various factors.
Watch the full In the Know segment today!
This article was originally published on our sister site, ETF Trends.