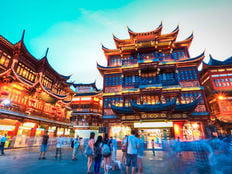 China country-specific ETFs could be among the most at risk if crude oil disruptions and high energy prices become the norm.
On Monday, the SPDR S&P China ETF (GXC A+) fell 1.2%, iShares China Large-Cap ETF (FXI A) dropped 1.2% and Xtrackers Harvest CSI 300 China A-Shares ETF (ASHR B+) decreased 1.5%.
China is the largest importer of oil and is expected to struggle as it tries to find an alternative source in the short-term if Saudi Arabia fails to quickly recover from the weekend attacks that wiped out half of the Kingdom's production capacity, CNN reports.
Premier Li Keqiang has already warned that the Chinese economy is vulnerable to slower growth and faces downward pressure. China's consumers are already dealing with rising inflation, such as the price on pork, a staple meat, that has surged 40% this year in response to higher tariffs on U.S. lean hog. Additionally, the ongoing trade war with the U.S. has contributed to slowed investment, retail sales and industrial growth. Premier Li also warned that it will be challenging for China to maintain a high growth rate amidst a number of global economic uncertainties.
"Against the backdrop of a complicated international situation and given the higher base of comparison, it is not very easy for China to still sustain a medium-to-high growth speed of above 6%. Such a speed still ranks high among the world's major economies," Premier Li said.
Related: Oil ETFs USO, BNO Surge Upwards of 10%
Some strategists now anticipate that the sudden spike in oil prices could become an unexpected hurdle in the short- to medium-term trend for the Chinese economy.
Consequently, more believe that China may be cornered into a situation where it is more incentivized to end the trade war with the U.S.
China has diminished the impact of U.S. tariffs through a weaker yuan currency, but a costlier crude oil price tag makes devaluing the yuan a riskier strategy, Nathaniel Taplin writes for the Wall Street Journal. A looser monetary policy to support ailing Chinese growth would also be risky since it would exacerbate rising food costs and housing prices.
This article originally appeared on ETFTrends.com
---
Content continues below advertisement