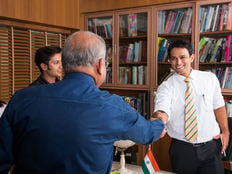 India country-specific ETFs surged Friday after New Delhi unexpectedly cut the corporate tax rate to bolster economic activity.
Among the best performing non-leveraged ETFs of Friday, the Columbia Indian Consumer ETF (INCO C) jumped 8.1%, iShares MSCI India Small-Cap ETF (SMIN C+) rose 6.0%, VanEck Vectors India Small-Cap Index ETF (SCIF C) gained 4.4%, WisdomTree India Earnings ETF (EPI C+) advanced 5.5% and iShares India 50 ETF (INDY C) increased 6.3%.
Meanwhile, India's Sensex Index was 5.3% higher, its biggest daily gain since May 2009, Bloomberg reports. Index previously entered a correction on Thursday after slipping 10% from a June 3 high.
Fueling the climb in India's equity markets, Finance Minister Nirmala Sitharaman said taxes on domestic companies will be cut to 22% from 30%. The effective new rate will be 25.2% after all additional levies and will only be applicable for companies.
"High tax-paying companies like Maruti Suzuki, HDFC Bank are just zooming. I have not seen this kind of rally in recent years, besides an election day. It will arrest the downtrend in sentiment, and auto companies are among the highest tax payers, so this will help some of the sectors that have been worst hit recently," A.K. Prabhakar, head of research at IDBI Capital Market Services, said.
India's Economic Reform
India has been enacting a number of economic reforms to further strengthen growth, including announcements to boost consumer demand, bolster imports and attract investments into the country.
"The measures aren't a patchwork but are real agents that will help revive growth," Rajiv Singh, Hyderabad-based chief executive officer at Karvy Stock Broking Ltd, told Bloomberg. "The fiscal deficit is a concern but at this time, growth should take priority."
Government measures to stimulate growth have come in spurts and were largely seen as inadequate. Consequently, India's equities has come under heavy selling pressure from foreign investors, with overseas funds dumping a net $4.9 billion of Indian equities this quarter through Wednesday and the market heading toward its biggest quarterly outflow since at least 1999.
This article originally appeared on ETFTrends.com
---
Content continues below advertisement